As homelessness continues to affect Orange County residents, the Friendship Shelter develops ways to fight the epidemic.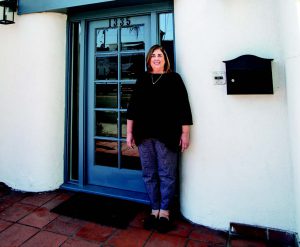 Founded in 1988, the Laguna Beach-based Friendship Shelter was originally an all-volunteer effort, loosely organized and led by the Rev. Colin Henderson. It operated out of St. Mary's Episcopal Church until the flagship site on South Coast Highway was opened.
Serving as executive director of the Friendship Shelter for the past 11 years, Dawn Price got her start with the nonprofit after her professional connections encouraged her to apply. Although she had never worked in the homeless housing sector before, she had experience in nonprofit management and began her tenure under Henderson.
"One of the things I value most about [the] Friendship Shelter is that its origin story carries with it a set of values and sense of mission that survives to this day," Price says. "The organization was founded by community members who saw a need in their community and wanted to fill it. They saw not just the homeless people who needed shelter and support, but also the impact that homelessness had on their community."
Price says the organization strives to maintain that same sense of purpose—and dual responsibility to clients and locals alike—today. "We understand homelessness has an impact on everyone and that ending homelessness helps both client and community," she says. The nonprofit's vision is to end homelessness in south Orange County, one person at a time, while also assisting homeless adults achieve independence and become productive members of society.
The Friendship Shelter receives funding from a variety of public institutions, from the state of California and Orange County to the city of Laguna Beach and the U.S. Department of Housing and Urban Development. Corporate and private funding as well as individual gifts also contribute to the shelter's continuous operations, with a substantial amount of revenue coming from the shelter's annual fundraising event. This year's gala is scheduled for Nov. 1 at the Laguna Cliffs Marriott Resort & Spa in Dana Point.
"While the public funding is critical, the privately raised dollars [from] foundations and individuals are what fuel the growth," Price says. "These funds plug holes in public funding, provide required matching funds and help ensure that our organizational infrastructure can grow to support program growth."
According to Price, all communities that receive HUD funding are required to conduct a Point in Time count of homeless people at least every other year. The Friendship Shelter services Laguna Beach, as well as all of south Orange County, which includes cities like Irvine, Lake Forest and Dana Point.
"The most recent countywide count found 763 people experiencing homelessness [on one night] in the south OC area. Of those, 147 were in Laguna Beach," she says. That local group included 75 in a shelter and 72 unsheltered. "Early records are difficult to find, but, at our 30th anniversary [last year], we estimated we had served 10,000 individuals," she says. "Since then, we've averaged 500 to 600 shelter guests annually and we have 91 individuals in housing."
Those interested in volunteer opportunities can visit the Friendship Shelter's website at friendshipshelter.org to inquire. Price says the biggest need is for people or groups to prepare meals at the two shelters, but there is also a need for regular desk volunteers and special project volunteers, including volunteers at the annual fundraising gala.
By Tanya A. Yacina, Laguna Beach Magazine