Andrea Ballesteros: Mother & Realtor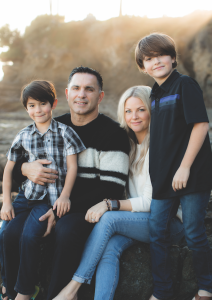 Laguna Beach local Andrea Ballesteros has over 25 years of experience under her belt, much of that in the coastal sector. She runs a successful team of agents in a Coldwell Banker Luxury satellite office in the village. In the spirit of Mother's Day, Andrea shared with us a little about her experience as a Laguna Beach mom and Realtor.
What is your favorite part about raising a family in Laguna Beach?
One very special thing I have found in Laguna is that we are raising our children in a small town where everyone knows one another & looks out for each other. It is true what they say "It takes a village." I am so thankful to have developed such incredible relationships with other local families and we are all there for each other.
What do you love most about being a Realtor as it relates to being a mother?
I learned this business from my Mother. She inspires me. We have a passion for helping people and are fortunate enough to do it through real estate. I love what I do and am grateful to share it with my Mom. This business lights me up in so many ways but it is truly providing an unmatched level of service that is my passion. The relationships I have with my clients exceed the transactions we facilitate. I love that I get to be a trusted advisor in the largest and sometimes most emotional financial experience my clients will encounter. I take great pride in the trust my clients have in me and am so grateful to part of their journeys building their real estate portfolios.
What have your kids taught you that has helped you in your career?
Balance, flexibility and a sense of humor. There is no accomplishment I am more proud of than being called Mom. My boys are the lights of my life and all I do is for them. Our children are our greatest teachers. Residential Real estate is an emotional business for the parties involved and just as in my home, it is my job to be the anchor in the middle of any storm for my children and my clients. I am confident that with my experience I can handle any situation that arises and my clients are comforted and trust that with me they are in the most capable hands.
What advice would you give to your kids if they wanted to start a career in Real Estate?
Gosh I hope they do! It's incredibly rewarding and fulfilling. It's the most amazing career, but to be successful it needs to be your passion. It is part of who I am.
Andrea Ballesteros can be reached at 949.690.5159 or andrea@ballesterosgroup.com.