Caruso Real Estate Team at The Agency
The business of buying and selling homes along the coast is a family affair
Industry veteran Michael Caruso, with over three decades of experience, operates two offices in Orange County alongside his son Phillip, licensed Broker, and daughter Andrea, licensed salesperson and Director of Operations. Together, they're a powerhouse team ranked among the top 20 teams in Orange County, top 240 teams in California, and top 2,000 agents in the United States by RealTrends, WSJ.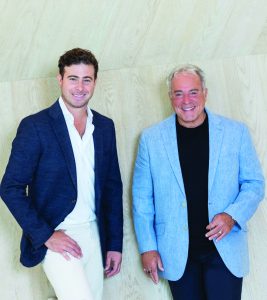 The team is fast approaching $1 billion in total sales, with over $225 million sold since 2020. "As a second-generation agent, I grew up immersed in the world of real estate, learning the nuances of the business from my father," says Phillip, who became a licensed broker at 23 after his initial career in multi-family Phillip and Michael Caruso development. "I followed my passion for architecture, design, and development."
The Caruso's ultimate goal is to continue a respected and trusted family legacy that spans generations. Their success is built on genuine relationships, community, and, of course, results for their clients— focusing on branding homes before themselves.
"We love what we do and take pride in adding insight and value to every transaction we facilitate. We work in all price points and stages of our clients' lives and spend quality time identifying the best home or helping them see a property's potential to create their dream home," states Michael.
With market trends and current economics ever changing, the team keeps a close eye on the local fundamentals and advises clients to do what's best for their unique real estate goals. To combat these changes, Michael and Phillip pull from their dynamic marketing expertise, deep industry and local knowledge for their competitive edge. "We always go the extra mile, providing true personalized attention and service to every client that often goes well beyond the transaction."
Caruso Real Estate believes that every home has a story to tell and are looking forward to continuing to tell them for years to come.
Michael Caruso, 949.584.2300, LIC. #01073919
Phillip Caruso, 949.293.7334, LIC. #01934516
Andrea Caruso, 949.463.8460, LIC. #01744658
carusorealestate.com