10 Minutes With Geoff Dunlevie
Having literally grown up in real estate around his father's Real Estate and Development Company, it is not an overstatement to say Geoff has real estate in his blood. His long career in national sales management, extensive sales and marketing experience turned out to be the perfect background when Geoff decided to take a leap of faith and start a Real Estate business in Laguna Beach.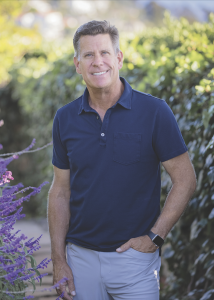 First real estate experience in Laguna…
I was lucky enough to purchase and remodel an Exceptional Rated Historic home in the Tree Streets of North Laguna which taught me how to navigate all the processes involved in working with the city, design review and the heritage committee. Now I get the pleasure of helping friends and clients and their dream home in Laguna too.
Why is Laguna special…
Working in real estate in Laguna is different every day. You can be helping a client purchase a Modern Mark Singer home in the hills or a 1,000 square foot cottage in the Village, but the important part is to help them understand the nuances of the various neighborhoods from the views in Mystic or Temple Hills to the beauty of North Laguna and South Laguna or the walkability of Woods Cove and the Village. Laguna truly has something for everyone and often every family, which I personally enjoyed when my daughter was born and spent her childhood years growing up here.
Getting started…
When I started selling real estate in Laguna it didn't hurt to have a partner that has been here for over 40 years either. Between us, Jim Ardery and I have sold hundreds of homes in virtually every part of Laguna Beach, and we are ranked in the Top 1% of teams. But the most important thing is relationships, which I seem to have a knack for developing. After almost 10 years selling homes in Laguna Beach and all along the coast, I have built a proven track record of successful sales and satisfied clients and a lot of great friends.
The Process…
Relationships are really what make my ties to Laguna so special. Working with a client is really a partnership. I take a client-centered approach, understanding that buying or selling a property is a major financial decision and I am committed to helping clients find the right property for their lifestyle and unique needs. When it comes to selling a home, I can draw on my career in the building business and my negotiation skills to make sure clients get the best return on their investment.
Giving back…
I support several organizations, including the American Cancer Society, Veterans of America, Boys & Girls Club of Laguna Beach, and the Laguna Beach Food Pantry. I am a Director of the Laguna Board of Realtors and serve as Treasurer.
Feel free to give me a call – 949-359-1804 or email geoff.dunlevie@compass.com
Geoff Dunlevie, Broker Associate
geoffdunlevie.com
COMPASS DRE 01991628
MORE ABOUT GEOFF…
Geoff has a passion for real estate that he's honed throughout his career. With extensive experience in sales and marketing, he's a top producer who brings a lot of value to buyers, sellers, and investors in the ever-changing real estate markets. Geoff takes a client-centered approach, understanding that buying or selling a property is a major financial decision. He's committed to helping his clients find the right property for their lifestyle and unique needs. Likewise his marketing and negotiation skills are integral to making sure clients sell their properties for the greatest return on their investment
Geoff's hands-on approach has earned him extensive repeat business and enthusiastic referrals from many satisfied clients. He's known for his hard work ethic, interpersonal skills, and professionalism. When he's not working, Geoff enjoys giving back to his community. He's a Director of a Regional Water District in Riverside County, Director of the Laguna Board of Realtors, and serves as Treasurer. He also serves on that Board's Grievance Committee.
Geoff has volunteered for many organizations, including the YMCA Parent-Child programs, American Cancer Society, Laguna Boys & Girls Club, and the Laguna Beach Food Pantry. He and his wife Rhonda enjoy hiking the local foothills, playing golf and tennis, and boating along the beautiful coastline. Fun fact: Geoff is also an accomplished drummer who plays at local private parties and engagements. He is also working to attain his private pilot license.
FEATURED LISTING

478 Holly Street | Laguna Beach
$3,200,000
2 Bed | 1 Bath | Dining Room and Large Living Room

Charming North Laguna Cottage in the Tree Streets situated on a large lot with plenty of room to expand. Plus Hotel Laguna Views!
The "Holly House" a charming North Laguna Cottage in the coveted 400 block of the "Tree Streets" with views of the ocean and the historic Hotel Laguna Tower. Built in 1930 and well maintained this home has a large living room with hardwood floors, classic fireplace surrounded by sculpted builtins and windows looking out to the downtown ocean views.
CONTACT GEOFF: 949-359-1804