J.J. Ballesteros: Principal of The Ballesteros Real Estate Group with Coldwell Banker
Community involvement and the client experience are keys to his success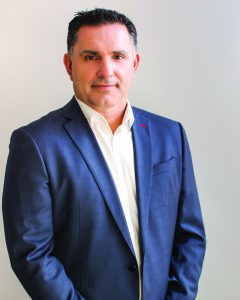 The Ballesteros Real Estate Group strives to be the real estate choice in Laguna Beach. With partner and wife Andrea they are focused on delivering the ultimate real estate experience. Understanding how to strategically leverage both market knowledge and cutting-edge marketing systems allows for better results for their clients.
Serving his fourth and final year as Chairman of the Board for the Laguna Beach Chamber of Commerce, J.J. feels fortunate to have served in his role and is proud of what the chamber has accomplished. Equally, 2021 was a banner year for the Ballesteros Real Estate Group and J.J. truly enjoys working with his wife Andrea and team. There is no doubt his experience serving with the Chamber has helped broaden his perspective on the city and what residents both new and old want to see.
What is your biggest takeaway from your time serving with the Chamber?
A: Having a closer look at how our city officials govern makes you realize how challenging it is. The pandemic obviously presented new challenges, however, our town is diverse with different groups wanting different things. Our mission at the Chamber was to stay focused on initiatives that would help grow and promote our local businesses. We were able to do that effectively these last few years.
Why is the Ballesteros Real Estate Group different from other teams?
A: The service we provide is unmatched. We truly care about the long term relationship of each and every client. Investing in our clients' success is a win for everyone. We are always there for our clients years after the transaction with anything they may need.
What is your favorite part of Real Estate?
A: Aside from getting to know our clients, we love negotiating on their behalf. To me there is nothing more important. Treating our clients' money like our own is something we take very seriously.
Any last words to leave us with?
A: We love what we do, where we live and the city we get to do it in. Our team is our family and each of us has a role in contributing to our success. My wife Andrea is the best partner anyone could ask for. Our Operations Manager Rosie Baber plays a vital role in our business. Our Marketing Assistant Madison Weaver has come on in the last year and provided tremendous support to our team. Dusty Facinelli continues to provide value to our sales team with his approach to his clients and the great business he does. My kids Cruz and Christian love it here and we are blessed to be a part of this community.
J.J. can be reached at jj@ballesterosgroup.com or 949.690.3240