Q & A With J.J. Ballesteros:
Principle of The Ballesteros Real Estate Group with Coldwell Banker
Planting roots, community involvement and serving his clients are keys to his success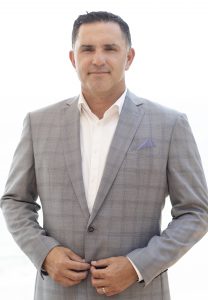 The Ballesteros Real Estate Group is not your average Real Estate Team. With partner and wife Andrea, they are focused on delivering the ultimate real estate experience. With the fundamentals of market knowledge and cutting-edge marketing well in place, their attention to client detail is a differentiator. Serving his third year as Chairman of the Board for the Laguna Beach Chamber of Commerce, J.J. continues to demonstrate his passion for Laguna's local businesses and the community as a whole. By staying current in the real estate market and city developments, J.J. brings a different perspective to buyers looking for properties in Laguna Beach.
Why did you choose real estate for your profession?
A: It is in my blood. Both my mom and grandmother were agents. When I married my wife, Andrea, who had been licensed since 1998, I knew my days were numbered. In addition, I enjoy meeting clients and solving problems to accomplish their goals.
Why is the Ballesteros Real Estate Group different from other teams?
A: There are great agents in this market who we enjoy working with. A lot of time is spent on systems to make sure our client experience is second to none. We also invest in our marketing to deliver an aggressive plan yielding results for our sellers. We listen to the wants and needs of clients and are not afraid to make suggestions.
What is your favorite part of Real Estate?
A: Aside from getting to know our clients we love negotiating on their behalf. To me there is nothing more important. Treating our clients' money like our own is something we take very seriously.
Can you share a favorite quote?
A: "Don't open your umbrella until it starts raining." Real Estate and life are full of rain clouds. Problems come up daily however it seldom rains (especially in Laguna). I put my energy into coming up with solutions rather than worry.
Any last words to leave us with?
A: Our success is a direct result of the team we have. My wife, Andrea, is the best human being on earth. We have the best Client Specialist Rosie Baber who loves our clients as much as we do. Our Marketing coordinator, Michelle Guevara, does amazing work. Our two sales agents, Dusty Facinelli and Aleks Korfanty, complete what we feel is one of the hardest working and caring teams in real estate. Of course, my two boys Cruz and Christian are my daily inspiration. We love this community and look forward to serving more clients.
J.J. can be reached at 949-690-3240
jj@ballesterosgroup.com or at BallesterosGroup.com