Q&A With Phillip Caruso: Coastal Real Estate Expert With The Agency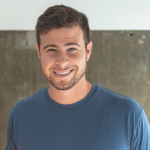 How did you get started in real estate?
As a Dana Point native, I spent my life along the coast and now reside in Newport Beach. I grew up in a real estate family, with my father Michael Caruso who owned and operated his own real estate firm for nearly 20 years. We are now partners at The Agency and opened the OC territory with offices in Laguna Beach and CDM. We have been ranked top small teams by WSJ Real Trends in 2020 and 2021 and we will hit the milestone $1 Billion in career sales by 2023.
I graduated from the University of Arizona with a Real Estate Development and Business Degree and went on to work at a multi-family commercial real estate firm here in Newport. I became a licensed Broker at age 23 and immediately jumped into the residential industry, with over $350 Million in personal sales over the last 11 years.
Are you using your Real Estate Development background?
I work with many investors to renovate and re-develop spec homes along the coast. Personally, the project I've recently taken the most pride in was "The Nottingham Farmhouse", a modern farmhouse we redeveloped in Dover Shores which at the time (Q42021) set the record for the highest sold price in the neighborhood at $5,375,000, $350k over asking price.
I have a keen eye for design, a love for architecture, and natural ability to find the distinct offering and unique story within each home. I enjoy working in all price points and pride myself on spending quality time identifying the best home for my clients or helping them see the potential to create their dream home. If you asked my past clients, they would all agree I dive deep into knowing the history of a home, the community, past sales and comps, and finding the diamond in the rough.
Tell us something you love about the business?
I love thinking outside-the-box to showcase our listings. From filming unique videos to telling stories and throwing private intimate concerts or art shows to showcase a property, we are thoughtful in our approach to curate remarkable moments that showcase the lifestyle, bring people together, create community, and ultimately locate the perfect buyer. We not only do this to drive more visibility, but love what we do and take pride in going the extra mile and building lasting relationships.
When you're not working, where can we find you?
With my wife, daughter, and Goldendoodle—walking the neighborhood, working on home projects, or paddleboarding Back Bay. My other passions include fishing, golfing, and playing guitar.
Phillip Caruso can be reached at 949.293.7334 or phillip.caruso@theagencyre.com Carusorealestate.com