The File Group
Your Local Corona del Mar Team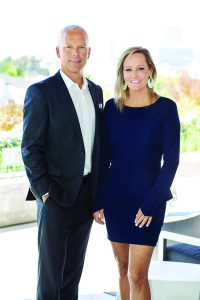 When it comes to providing their clients exceptional customer service, no one does it better than The File Group. Established in 2016, The File Group is a full-service, comprehensive real estate group whose mission is to make real estate accessible for everyone. Whether their clients are first-time homebuyers or sellers listing their luxury beachfront property, Janelle and Brandon provide their clients with the same unparalleled, five-star service that exceeds every expectation. Primarily serving buyers and sellers in Orange County and the surrounding area, The File Group takes an individualized, client-centric approach while collaborating as a team in order to help their clients accomplish their real estate goals.
Janelle File, the Principal and Co- Founder of the File Group has been active in Orange County's high-end business world for many years. As a respected employee of the Irvine Company, she rose through the ranks and received numerous promotions, while expanding on her roles and responsibilities. She transitioned into real estate 19 years ago and developed her own real estate appraisal firm, where she employed 15 appraisers, servicing all of Southern California from Los Angeles to San Diego.
Before switching to luxury real estate, Brandon Goethals, the Co- Founder and Managing Partner of The File Group, had a long and impressive career in the sales industry. After traveling the world playing professional golf for four years, he transferred into the business and tech sector, where he was the COO of a San Francisco-based startup in the 1990s. He eventually returned to the golfing world and became a highly esteemed division one coach. He then became a sales leader for the PGA TOUR, where in 2015, he was awarded salesperson of the year.
Combining their many years of business and sales experience, Brandon and Janelle established a dynamic real estate team in 2016, which would become The File Group. In just 6 years Brandon and Janelle have sold over $300 million in sales and within the past year they have decided to expand, adding three new agents to the team. Brandon and

Janelle have lived in Corona Del Mar for more than 25 years and are regular fixtures of the community. If you are considering listing your property or beginning your home search, contact The File Group today.
Brandon Goethals | DRE 02004301 | 949.500.1807 | brandon@thefilegroup.com
Janelle File | DRE 01952433 | 949.466.5661 | janelle@thefilegroup.com