Ballesteros Real Estate Group
Local Experts, Trusted Advisors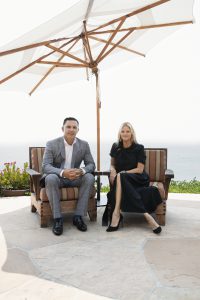 Andrea and J.J. Ballesteros are constantly looking for new ways to grow. 2020 has opened their eyes to the changes that can be made, and how they could better support their community when help is needed most.
Residents of Top of the World, Andrea and J.J. have two sons Cruz (10) and Christian (6). They have experienced firsthand how Laguna Beach has been impacted by the pandemic.
J.J. is the Chairman of the Board for the Laguna Beach Chamber of Commerce which has worked closely with the City on programs for local businesses to survive and prosper during recent closures.
Fortunately, the Ballesteros Real Estate Group has been able to make necessary changes with the new reality of the market. "Providing consistent market information throughout the third and fourth quarters of the year on our social media channels has proven to be of value." said Andrea Ballesteros. "Our clients appreciate and rely on our market updates and the resources we are sharing." Additionally, Andrea and J.J. personally called their clients to see if they could be of assistance in any way. "Keeping close communication with our clients is important to us. We believe in building lasting relationships with our clients, and part of that is staying in touch when times get tough. Everyone has been staying home so we were able to have some great conversations and see how everyone was doing." J.J. said.
During the last few months, they have seen the call volume pick up as people began to feel more comfortable viewing properties and new sellers began to put their houses on the market.
"We were stopped cold as the Summer and Fall Markets were taking off. There were so many people who were in the market to buy or sell. Now some of those people are ready to move." J.J. said.
Working in the new norm with face masks and spaced-out appointments has gotten easier. They both feel that safety should be put first, and making buyers and sellers feel most comfortable is priority.
"Our heart goes out to all those who have suffered during these last few months. This is an unprecedented time, and we know people are still nervous and hurting." Andrea said.
As they enter the holiday season, Andrea and JJ are focusing on their boys, their team and their community. They are using this time to be grateful and to help in any way that they can.
When you talk to them you can tell they love what they do and are successful for a reason. They can be reached at (949)690-3240 or at BallesterosGroup.com