Frank Hufnagel and Heidi Cleveland
Real Estate Consultants with experience, professionalism and integrity
"Having worked with numerous brokers across the country, we can confidently share that our experiences with Frank and Heidi have been nothing short of outstanding.
We are grateful that Frank and Heidi have been our trusted and invaluable partners throughout the past ten years."*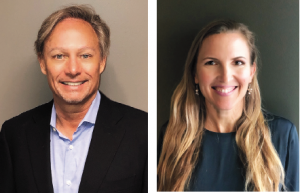 Frank and Heidi have 23 years of combined experience in real estate and have sold over 150 homes worth more than $300 million. Heidi and Frank both have corporate backgrounds in sales and marketing with Fortune 500 companies. Frank has served as President of the Laguna Board of Realtors, was recognized as "Realtor of the Year" in 2018 and has traveled to 70 countries.
Heidi and Frank were recognized in 2019 as Real Estate All-Stars by Orange Coast Magazine. Heidi graduated from Dartmouth College and is a proud supporter of SchoolPower and LBHS Water Polo, with three children in the Laguna Beach community. Heidi completed an Ironman Triathlon, and both Frank and Heidi are avid cyclists and travelers. Frank holds an MBA and is also a certified yoga instructor.
While Frank and Heidi's integrity, extensive market knowledge and connections to the community contribute to their success, they have sold over 150 homes because of their  perspective that every client is a future neighbor; a friend.
Heidi and Frank handle all aspects of the transaction themselves, without the use of assistants. Clients and colleagues appreciate their work ethic and authenticity, and that Heidi and Frank are partners who combine their unique skills and talents to create an impressive, yet approachable team. They guide clients through what can be an emotional and difficult process with responsiveness, integrity, compassion, and respect. Whether preparing a home for sale, negotiating a purchase, navigating the escrow process, or advising clients on market trends and conditions, Heidi and Frank help their clients realize the full potential of their real estate goals. – written by Soren Teeple, Heidi's son, and a Laguna Beach High School senior.
*Review on Zillow
To hear more from our clients visit:
https://www.zillow.com/profile/ HufnagelCleveland/#reviews
LagunaBeachRealEstateTeam.com
949-371-4333 (Heidi) 949-444-8718 (Frank)
hcleveland@surterreproperties.com; frank@surterreproperties.com