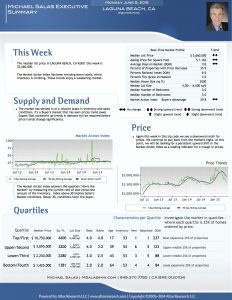 The median list price in Laguna Beach this week is $2,660,000. The Market Action Index has been trending down lately, while inventory is climbing. The trends imply a weakening market.
Supply and Demand
The market has settled in at a relative stasis in inventory and sales conditions. It's a Buyer's market that has seen prices trend lower. Expect that consistent up trends in demand will be required before price trends change significantly.
Price
Again this week in this zip code we see a downward notch for prices. We continue to pull back from the market's highs. At this point, we will be looking for a persistent upward shift in the Market Action Index as a leading indicator for a trough in prices.