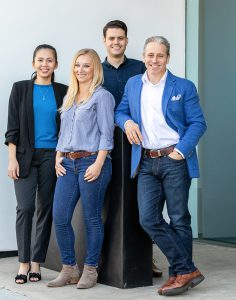 Anders Lasater Architects(ALA) was recently awarded the 2019 "Best of Design and Customer Service" onHouzz, a popular platform for home renovation and design. ALA, an award-winning architectural studio located in Laguna Beach, specializes in custom homes, galleries, salons, restaurants, fashion, and other boutique retail and commercial projects.
ALA was chosen by the more than 40 million monthly unique users that comprise the Houzz community from among more than 2.1 million active home building, remodeling, and design industry professionals. The firm was noted for its exceptional customer service, judged by client reviews as well as for design, with a number of Houzz users saving project images for their idea books.
The "Best of Houzz" badge is awarded annually, in three categories: design, customer service and photography. Design awards honor professionals whose work was the most popular among the Houzz community. Customer service honors are based on several factors, including a pro's overall rating on Houzz and client reviews submitted in 2018. Architecture and interior design photographers whose images were most popular are recognized with the photography award.
"Our firm strives to give our clients opportunities to live their life in a better way, to elevate their senses, and bring them a new found appreciation for the built environment," said Anders Lasater, founder and CEO of Anders Lasater Architects. "We know that great architecture makes for better living, and we're honored to be recognized and celebrated by Houzz with this coveted award."
Anders Lasater Architects is also included on the BOND Custom Top 100 List—41st among a definitive list that honors luxury home architectural design firms. The work of these firms exemplifies their innovation, creativity, unsurpassed quality, and commitment to their craft. In addition, Los Angeles Architects.orgnamed Anders Lasater Architects among the best residential architects in Newport Beach and Orange County.
For more information about ALA, visit anderslasaterarchitects.com.