Marketing gets a fun new twist as Rosanne Nitti of The Nitti Group takes on podcasting on a local radio show. Both photographer and broker, she bridges her creative side with her business acumen to buy and sell real estate for her clients. The podcasts allow her to have conversations with local experts in the real estate field and uncover their thoughts about certain issues affecting Orange County residents.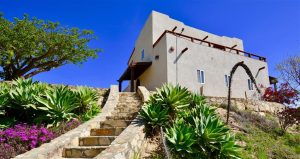 Q:  Tell me a little about your radio show.
A:  I was looking for a less conventional way to get in touch with clients. Since most of my business is referrals, I am not fond of doing the usual real estate marketing. I don't like door knocking, and in the past, I've spent thousands of dollars mailing postcards and buying internet leads. So, I thought I'd try a little radio show. My approach is talking about issues in real estate, so I named it "Keeping It Real Estate." It's a live podcast with videos on OC Talk Radio and I have guests come into the station. For example, I had a mortgage expert talk about reverse mortgages, and I brought in a guy who has a real estate academy for investors. I approach topics like how the next five years will change immensely for real estate. Alas, due to my busy summer schedule, I had to suspend the weekly show temporarily. But it will resume in the fall. I really have a lot of fun with it. You can still see my past podcasts on YouTube.
Q:  What brought you into the real estate field?
A:  I started in Honolulu in 1995, 23 years ago. At that time, I was a loan officer for Transamerica Financial when interest rates were 17.99 percent with fixed rates at 10.75 percent, big difference from today. A colleague of mine was getting his license and talked me into getting mine. I went to work for Prudential, where I was trained properly by a broker who went on to become the president of the National Association of Realtors. Then I spent over seven years managing a thousand properties in Oahu. And when I moved to Virginia Beach, I managed commercial and residential sales and property management. It was there I got my brokers license. After six years, my boyfriend at the time and I started our own brokerage firm and a window film import/export business.  The window film business was prosperous and within a year we had $1 million in sales. That's when we started buying land and building 20,000-square-foot warehouses. I'm originally from California, so I decided to move back by myself to be closer to family. I started my own business in real estate and bought a place in Laguna Beach, so I could exhibit my photography at the Sawdust Art Festival.
Q:  How does your creative self translate into helping you buy and sell homes for clients?
A:  I think it works very well. The creative side of me builds a special rapport with people, which for me, is very important. I listen to my clients' needs and adjust my vision accordingly. If a client is buying a teardown, he won't care about what the city is going or not going to let him do with redoing a home. Moving my clients beyond the ugly wallpaper in the bathroom often takes a creative turn. Some clients might walk into a house filled with other people's stuff and have trouble imagining it as their own home. So I help create the vision for them. On the flipside, I have an investor who prefers turn-key properties, but they usually cost more and make it harder to meet the numbers in his return on investment. In that case, we typically wait for the right one to come along.
Q:  Do you think investors make it hard for owner occupant buyers to find a house?
A:  There are so many investors waiting in the wings right now for properties to come available, and yes, they have cash. But cash doesn't always win over. I always tell home sellers sometimes the best price isn't the best offer. Many times buyers who have given an amount over the asking price end up torturing the seller with repairs in order to recoup the extra money put into the deal. Buyers want to buy low; sellers want to sell high. It's about figuring out how to come to a happy medium for everyone. As a realtor, I have to listen to people and see if I can help them and at times, reel them into what reality can deliver. It's not about grabbing them by the hand and selling a house. It's about earning trust and helping them make those important decisions.
Q:  Having been away from California for quite awhile, when you came back, how did you generate clients?
A:  Currently my real estate business is about 95 percent referrals and allows me more of a warm introduction to see if we are a good fit. When I came back, I knew I needed to become involved in the community to build contacts so I became ambassador of Laguna Beach Chamber of Commerce. I enjoyed the ribbon cutting at events and got to know the city council. In 2015, I became a board member at the Sawdust Art Festival and have been doing it since, donating my time for the arts and exhibiting my photographs there. My photography business has helped me fill in the gaps between real estate deals. I'm not your average realtor. I'm geared more toward relationships with individuals and oftentimes I'm into it for the long haul, working months to find the right home. I do work with a lot of artists and have helped them buy and sell homes. Artists think differently and sometimes are emotionally attached to spaces where they work and have unconventional requests. As an artist myself, I understand.
Q:  You mentioned there will be big changes in the real estate field in the next five years.
A:  When I started in this field, homes were listed in a thick book called MLS (Multiple Listing Services) and there were no internet searches. Information came via fax. Today, technology has opened things up for people with the advent of listings and all kinds of data are available to the public through internet searches. Companies in turn are tapping into the market by advertising heavily and lowering their commissions, typically flat fees to sellers to generate a lot of listings. Many people now don't think they need agents. If they could go on Amazon and buy a house, they would. I just read in a real estate magazine about AI. Artificial intelligence is transforming things in the industry, providing automated ways for people to buy and sell homes. The reality of AI is it will probably result in fewer realtors, but the direction is not quite clear. It is an emerging technology and there are a million different techie guys working on it, so it will be interesting to see which way it goes.
Rosanne Nitti, The Nitti Group
668 N. Coast Hwy #1343
Laguna Beach, CA 92651
949-315-9104
www.premierocbeachhomes.com
RosanneNitti@cox.net
By Gina Dostler