Jeff Grice, owner and broker of Remax Evolution | Evolution Property Management in Laguna Beach, made his first stock purchase at 13. As an adult, he continued to trade securities and focused on commodity and currency futures and options contracts. Now, he's refocused on growing a different sort of investment in real estate. His Laguna Beach office marked its third anniversary in June.
Q: Trading stocks at 13 years old! How does a teenager get interested in stocks?
A: My grandfather was a very successful stockbroker in Detroit so I was around that type of atmosphere. Growing up, we didn't get a lot. I wanted to buy things myself so I taught myself at home how to increase my money. I saved $200, researched a media company and invested in it. The company went up thousands of percent over the next couple of years, and that gave me my start.
Q: Why venture into real estate when there are hundreds of realtors and brokers out there?
A: I went to college for finance, and at the same time played football for Ferris State University in Michigan. Then I went on to receive a degree in business management from Northwood University, Michigan. But I had experienced buying income properties a couple of years before the market crashed in 2008 and those transactions gained my interest. When the market crashed, I saw an opportunity to get into real estate at a deeper level. I wanted to develop it into a business. So I did all the necessary planning to be licensed.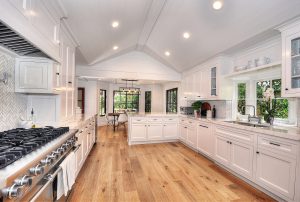 Q: What's your secret to success in this real estate market?
A: What has really helped us is having a very broad mix of real estate businesses: residential, commercial, land, and property management. That really helped us grow. Most offices are typically oriented just towards residential real estate. We have been growing triple digits every year. Specifically in 2014 over 2013 we had a 359% revenue growth rate; in 2015 over 2014, it was 135.91%; and we are on pace for 75-100% growth in 2016.
Q: Do you limit yourself to certain areas?
A: We do business from Huntington Beach to San Clemente even though we focus on Laguna Beach. I'm adamant if we can get business elsewhere, then we do it. In fact, I encourage it. I don't believe my agents should have borders as long as they are doing a great job. In fact, I don't put borders on building my business. I started a property management division and hired experienced managers. We currently manage almost 300 units.
Q: Is that part of your expansion plan?
A: That's just the start. I have a lot more to do. Right now I'm planning to open a new Remax Evolution in Newport Beach, hopefully by September or October. I definitely want it by the fourth quarter. Then there are a couple of other expansion initiatives with separate businesses planned, but all still related to the real estate market.
Q: You mentioned wanting to buy things yourself. What are you buying with your success?
A: A cool wardrobe. I like to be colorful, fashionable and casual; not always in a button down suit. And I have a bizzillion shoes and some very interesting ones. I love shoes, because when I was younger I had to wear one pair of shoes three to four years straight, gluing the bottom of shoes together to keep the soles on. I also used to paint them with shoe polish to spruce them up. So when I was able to buy things myself, I just had to have shoes. Growing up without anything taught me a lot.
Q: Any tips for other real estate brokers?
A: I try to stay out of what my agents do. I'm one of the few broker-owners who are actually hands on in the office. I like to be supportive and mentor as much as I can. I am always available to talk, even at 11 p.m. and respond right away. Many very corporate, multi-structured companies have strict communication levels. I don't do that with my company. It's open policy, straight to my door.
Q: Your email signature line reads, "Let's change the world and disrupt the status quo." How are you doing this?
A: I always believe that if you're going to do something in life and want to be successful you must push the boundaries. The successful are always disruptors in their fields and in order to be disruptors you must challenge the status quo. Whether it's in business, charitable work or just life in general, there is nothing and no one that can stop you, besides you.
By Gina Dostler
CONTACT INFORMATION
Jeff J. Grice, Owner/Broker
ReMAX Evolution | Evolution Property Management
302 Glenneyre
Laguna Beach, CA 92651
949-342-2244 phone
949-295-0416 mobile
www.REMAXEVOLUTION.com