One on One with Richard Cohen: Directing Drama in a Night Landscape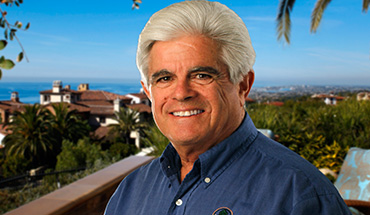 Richard Cohen was among the recent beautification award honorees at the Orange County chapter of the California Landscape Contractors Association. His company, in business since 1976, provides personalized service and stays at the forefront of industry practices.
Q: You won an award for the Moss residence in Newport Coast. What did you do?
A: There is a lot that goes on with a job of that size and lighting was part of the installation throughout the property. Utilizing LED lighting, over 81 light fixtures were installed at the project site. The center courtyard has café lights, which created another room for living outdoors. Beyond that, we accented every tree with lights along the pathway, illuminating all of the trees and plant material in the landscape. A water feature we designed uses low voltage lights to highlight the glass mosaic designed by the interior designer Mark Scott.
Q: What do clients need to understand about landscape lighting?
A: To me, landscape lighting is a very integral component for implementing a high quality landscape. It's vital for lighting trees and pathways to provide both drama and safety to the outdoors. The effects lend a very dramatic feel, making the house just as inviting at night as during the day.
Q: Does adding drama also mean drama over the electric bill?
A: We use LED lighting on pretty much every type of lighting. They have a lifespan and electrical efficiency much longer than incandescent and fluorescent lamps. LEDs also take a significantly smaller percentage of electricity so more lights doesn't mean a higher electrical bill. The initial investment is a bit higher, but the lights lasts seven time longer. So it really makes a lot of sense to use the LED lighting, which in itself creates lovely atmospheres for the home. It also provides a safe backyard at night, the light providing the ability to negotiate around the property without stumbling around. For security purposes, we have built special control panels and relays to turn all lights on at once in case of intruders.
Q: How important is landscaping to a home's value?
A: Many people feel if they invest $200,000 into their landscape, they get it all back. That's not how it works. A good design helps sell the property faster for the most money for the neighborhood. Also you need to factor in the enjoyment both family and friends get after you invest into landscaping.
Q: What keeps you busy in the industry?
A: Though its been happening for quite some time now, there is still a big emphasis on outdoor living space – an extension of the house with outdoor rooms such as outdoor living rooms, sports bars, kitchens. In Southern California we sculpt a lifestyle through landscaping.
Q: Is this why you love landscaping?
A: Yes, I really do love the artistic part of creating spaces. I like to take a bare piece of ground, or shoddy piece of landscape and transform it into beauty for my customers. When I was a kid, I liked to putter around in the garden all the time. I would have been a landscape architect, but my uncle talked me out of it due to most architects running out of budget before the landscape could be considered. But now the environmental movement has changed all that. A project designed these days has to include a minimal amount of landscape in the budget. The initiative to include natural areas has totally changed the landscape construction industry. Unlike years before, it is now a very major part of most project developments.
Q: Tell me about your sweepstakes award for the McLean residence in Villa Park.
A: My directive from the client was to recreate their backyard. Originally it was in very bad shape, cracked concrete, damaged wooden decks, which they demolished, and was sitting as an empty shell. We renovated the pool, changed some of the shape and rebuilt the spa, making it bigger. We put in all new plants and grouped them together by water usage. The irrigation is all drip except for the lawn. We used high efficiency heads with stream rotors for the 2,500 square feet of turf on the half-acre lot. The landscape was designed by Elaine Iverson and took us seven to eight months to complete.
Q: Are there no jobs too big or too small?
A: We construct everything, building certain structural elements to make every design work. A landscape architect we worked with wanted to build a fireplace open from three different sides. The challenge was to build it from a structural standpoint that passes code and creates the look, which we did very successfully. The most unusual build we did was for OC Rescue Mission installation of a black and white urn by Denmark artist Peter Brandes. The urn is over 16 feet tall and is set on a granite pedestal, made to look as if it is floating on water. All together it stands over 30 feet tall. There was a lot of brainstorming on that project. Though designed by structural engineers, it was our job to figure out how to build it. And we did. And it's still there.
CONTACT INFO
Richard Cohen, President
Richard Cohen Landscape & Construction
20795 Cañada Road
Lake Forest, CA 92630
949-768-0599 phone
949-768-9051 fax
info@richardcohenlandscape.com
By Gina Dostler