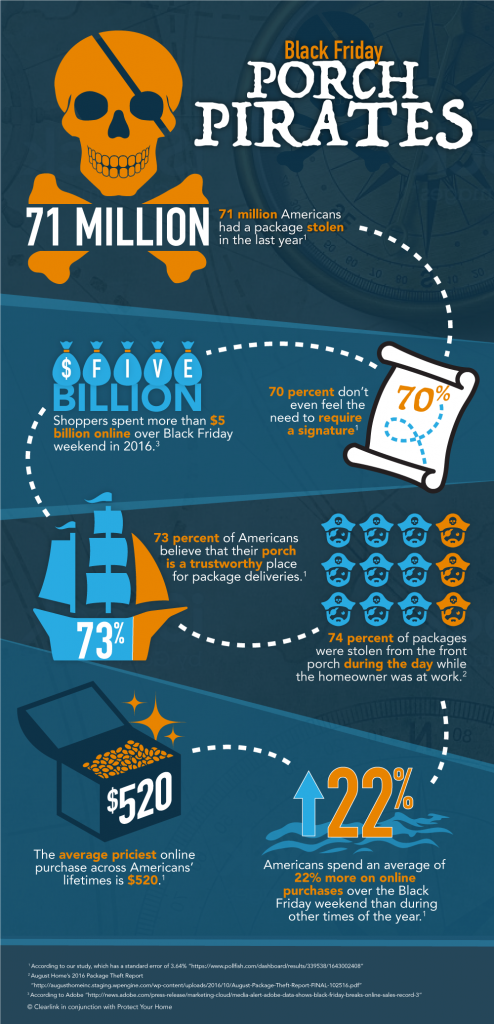 As more people shop for deals and purchase gifts online this Black Friday and Cyber Monday shopping season, front-porch package theft—perpetrated by "porch pirates"—is reported to be on the rise, too.
A study revealed that 73% of Americans believe their porch is a safe place for package deliveries, according to research by ADT Security Services Corporation, of Boca Raton, Fla. The 2017 study with a 3.64% margin of error surveyed 500 U.S. homeowners, ages 17-54.
However, despite that confidence, 71 million Americans had packages stolen from their front porches in 2016, the study noted, citing FBI crime statistics.
Police in Laguna Beach and Newport Beach routinely receive reports about packages gone missing.
As online shopping becomes more common, this number is likely to continue to increase. Should Americans be more concerned about protecting their deliveries?
You might feel pretty safe starting your online holiday shopping over Black Friday weekend and trusting your package deliveries to the safety of your front porch. But should you? Let's take a peek at some national statistics:
Americans spend an average of 22% more on online purchases over the Black Friday weekend than during other times of the year.
71 million Americans had a package stolen in the last year.
74 percent of packages were stolen from the front porch during the day while the homeowner was at work, based on data collected Sept. 2-12, 2016, by August Home, makers of smart locks.
How to help prevent Black Friday front-porch package theft:
Order early. Seasoned thieves are on high alert during the holiday season, especially right after the Black Friday weekend. To avoid being a target, take advantage of early bird sales online or buy at the store to avoid the threat altogether.
Enlist the neighbors. Ask your neighbors to keep an extra eye out when you're expecting an important package.
Sign Up for Amazon Key. You'll no longer have to miss meetings at work to meet a delivery person at home for an anticipated item. With the Amazon Key, drivers from the online megastore can enter your home with your permission to leave your package just inside the door.
Install a doorbell camera. Not only does a doorbell camera add a layer of security to your home's entrance, it can also monitor the activity on your front stoop, allowing you to tell a delivery person to leave the package in a safer location.
Use a smart mailbox. With the ability to sync to your smartphone, a smart mailbox can sense motion and alert you when your mailbox opens, helping you keep track of both deliveries and suspicious activity—and keep your package protected from the elements.
If snagging the best cyber Monday deals is at the top of your list this season, go for it! Just make sure to prepare your home before hitting that one-click purchase option.
by Laura Schmitz, Special to the Independent
The writer works for ADT Security Services.
Graphic:
Source: ADT Security Services