Reflecting and Projecting

Todd Davis talks COVID crudité trays & making life a beach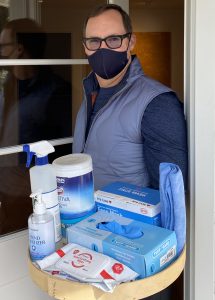 It just seems right to spend a little extra time reflecting on last year, and even more time contemplating the year ahead. For an agent as meticulous and personally connected to his clients as Todd, COVID-19 could have been a game changer. But it wasn't. He took it all in stride and is absolutely poised to tackle whatever comes next.
Q: When lockdowns first went into place, how did it change your day to day?
A: My only concern was safety. What did I need to do to ensure the safety of everyone involved? I mean, regardless of the virus, Todd Davis people still needed to move on, literally. I simply got smart about the details and solved for experience.
Q: Is that when you developed the "COVID crudité tray?"
A: Ah yes, it's a nickname for my very best presentation of hand sanitizer, masks, gloves, disposable towels, disinfectant wipes. In addition to properly scheduling time in between showings and strict adherence to those schedules, I truly focused on integrating safety measures in such a way, it didn't sacrifice the personal service I pride myself on.
Q: Did you have to get on the Zoom bus?
A: Yes, of course. Zoom showings, meetings, virtual tours. I missed the amount of in-person touchpoints, but I made it my mission to exude positivity on every platform, embracing any technology my clients were most comfortable with.
Q: And how did people respond?
A: I could tell, with a lot of folks, there was an added level of stress to the already stressful task at hand. But with each engagement, I could see the stress melt away as they realized I was going to make things happen, no matter what.
Q: Talk to us about the year ahead.
A: Here's what you need to know. With the massive shift to remote work that isn't going away, buyers can live and work where they would normally vacation, away from more densely populated areas. But they want "all the things" – home offices, gyms, spas, and plenty of room to roam for the kiddos. Interest rates are at record lows, but so is inventory. Do not wait until spring to list your home!
Todd Davis can be reached at 949.447.4444 or todd.davis@compass.com.