Surterre's Victoria Strombom helps clients realize their real estate goals
A "hands-on" approach and market knowledge are keys to success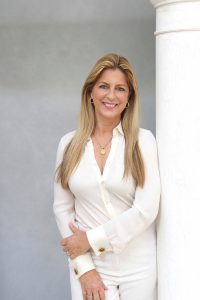 Did you ever get the Fuller Brush Man knocking on your door growing up? That was my father! He began his career going from one house to another for Hoover Vacuum Company—and eventually became their West Coast regional manager. The experience of moving our family of 7 with dad's every promotion through childhood taught me the joy of making new friends, exploring new locations, and pursuing my dreams. My family landed in California, where I have been a REALTOR® and resident of Laguna Beach since 1985.
My first career as a pediatric/ neonatal and ICU nurse made real estate a natural fit. My nursing background has given me the ability to stay focused, listen, empathize, anticipate the "what ifs", multitask with ease, and remain calm when faced with uncertainty. As a nurse and REALTOR, I am first and foremost an advocate for my clients. Whether assisting a buyer to find right location to fit their needs or helping a seller to achieve the best value and move with comfort, I love helping my clients realize their real estate goals. I pride myself in being "on the pulse" of real estate market trends and leveraging my experience, connections and intuition to capitalize on opportunities for clients.
As a leading REALTOR since 1985, I have earned various accolades over the years. In 2019, I was recognized as one of Orange Coast Magazine's Real Estate All-Stars. I have also been a nominee three times as the Orange County Business Journal's Woman of the Year and have been honored as Director of the Year for the Laguna Beach High School Scholarship Foundation.
For over 35 years I have specialized in coastal real estate and investment properties from Huntington Beach south to San Clemente and inland to Coto de Caza. I have watched cities develop from the ground up. Oceanfront Estates to entry level Condos, Trust Sales to Multi Unit buildings, I have listed and sold a variety of properties for my valued clients. My client's privacy and my accountability to them is paramount. I do not work with a team of assistants. When my clients hire me, they get me. I have a hands-on approach and direct communication with my clients to ensure seamless transactions.
The expression "do what you love and it will never be a job" deeply resonates with me. I genuinely love real estate, meeting new people, working with hand and heart to connect everyone to make their dreams become a reality.
Victoria Strombom
Surterre Properties
949.533.1116
vstrombom@surterreproperties.com
CoastalPacificHomes.com