Create an inviting entertaining area with a custom at-home bar for family and friends to gather around.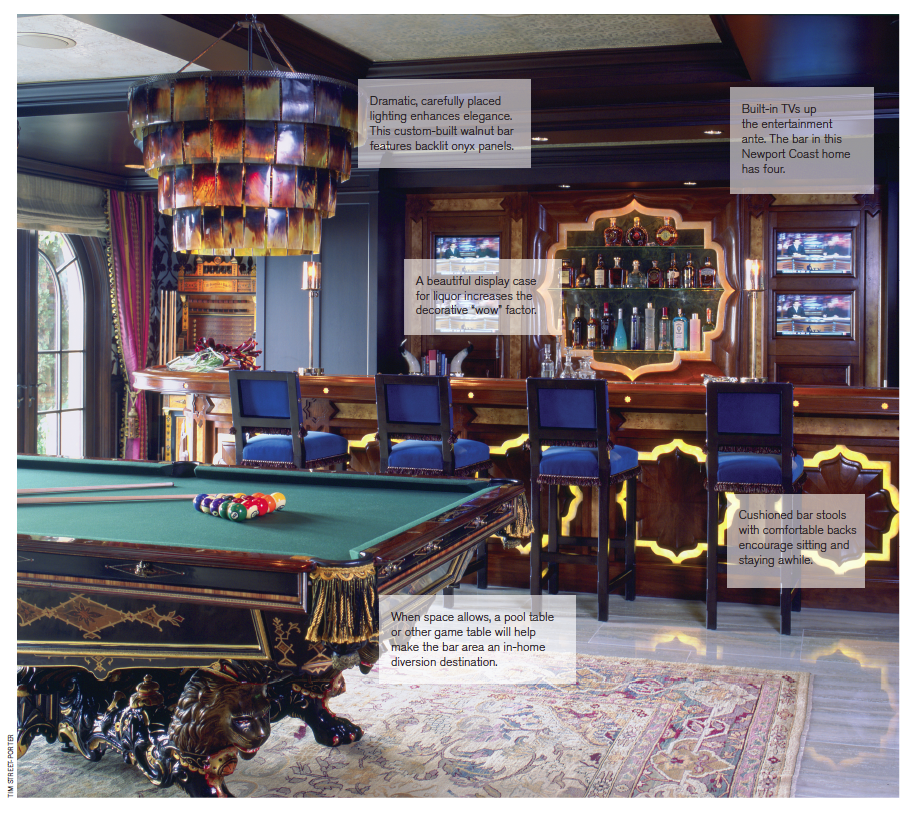 A home bar is a perfect place for entertaining or to simply sip a cocktail and unwind without the hassle of heading into town for a drink. These at-home spaces for spirits can be customized to fit any homeowner's desires. For instance, when it comes to building a custom bar, Newport Beach interior designer Wendi Young, owner of Wendi Young Design, says that her clients often request professional functionality.
"People want bars that work … well for professional bartenders," she says. "They often have large parties, so they want bartenders to work behind the bar and feel comfortable."
One key component: creating space for the alcohol and other drink ingredients to be laid out in a convenient fashion. "The liquor should be easy to access and the bar should feature an ice maker or ice bins that can be easily dumped at the end of an evening," she says. "[It should also have ample] counter space for cutting fruits and vegetables."
Durable materials such as stone countertops and copper or stainless steel sinks that will stand up to acidic fruits like lemon and lime are important for ensuring lasting beauty in a bar. In addition to being durable, decorative finishes should also blend in with the home's interior and architecture. "Depending on the style of the home, this could mean beautifully stained finishes or painted finishes," Young says.
A small refrigerator is also an essential feature and Young's clientele often request one underneath the counter. Even if a home has a dedicated wine cellar, a refrigerator in the bar is handy for chilling a few bottles of wine and keeping other beverages and ingredients cold.
Many bars also feature built-in televisions, making the space a go-to spot for game day viewing. For example, one of Young's barrelated projects included installing four flat-screens. One tip for a streamlined look: Place TVs on hydraulic lifts so they stay out of sight when not in use.
Another popular option when it comes to furnishing these spaces is to include cigar humidors as well as comfortable bar stools that invite guests to linger. But where the bar is actually placed within the home is possibly the most important aspect when it comes to design.
"Typically, there is other seating nearby," Young says. "That might be the dining room or outdoors. We have done bars where the interior space is joined to the exterior space, so the bar can be accessed from outside through pocket doors." When space allows, the bar may be just one element in a larger entertainment area that includes pool tables and other game tables and lounge-style seating.
Of course, other bar amenities include the right glasses and bar accessories for serving various types of cocktails. But what is deemed essential depends on the person. "Each client has individual needs," Young says. "They all want their bars stocked with typical barware such as martini, highball, lowball and wine glasses for both red and white wines, but they each have their favorite brand of glassware. One client may only serve out of Baccarat while another prefers a different crystal. We tailor barware to specific needs and wants."
So, whether your drink of choice is an Old-Fashioned or a glass of pinot noir, there are endless options for creating a special space to toast the day's end in the comfort of your own home.
By Vicki Hogue-Davies