Q & A With Chris Tebbutt
Chris Tebbutt is a residential real estate professional at Compass. He holds a degree in architecture from Cal Poly, San Luis Obispo.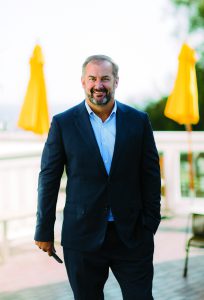 Q: What do you think are the most important considerations when hiring a real estate agent?
A: Our coastal real estate market is very unique. Whether selling or buying, it's critical to be working with a knowledgeable local agent. Someone who understands the 'distinct to our area' variables like view, orientation and neighborhood differences that add up to our real property values. An agent with an expansive professional network and strong community relationships are key in an area where off market home sales are the norm.
Q: What is your best advice for home sellers in today's market?
A: According to the National Association of Realtors, almost 100% of buyers first shop for their home online. It's critical for sellers to understand their first showing is now on the internet, not in person. And in our quick-to-decide "swipe left/right" culture, first impressions are critical to sell for the highest price and shortest amount of time. The key is to prepare and present your home in its best possible light so that buyers will be compelled to actually come through the door in person.
Q: We understand you have found great results using Compass Concierge. What is it?
A: Compass Concierge is basically a hassle-free way to get your home 'market-ready' in order to sell fast and for the highest price. Compass fronts the money to cover the cost of services such as painting, flooring, landscaping, staging, etc. with no fees or interest— ever. My team and I manage the entire process, so my clients can focus on their next chapter.
Q: What do you see coming for buyers and sellers in 2022?
A: The coastal real estate market is poised to continue to appreciate in 2022. Further, most economic experts are forecasting a rise in interest rates to about 3.5% next year. Sellers will want to take advantage of strong buyer demand before interest rates rise. Buyers will want to isolate a home to lock in a historically low rate.
Chris lives in Laguna Beach with his husband and 13-year-old twins.
Chris can be contacted at 949.485.9898 or chris.tebbutt@compass.com