Specialized Skillset Plus Community Relations Equals Success
Kristine Flynn, of The Mike Johnson Group at Compass, is focused on helping her clients achieve their real estate goals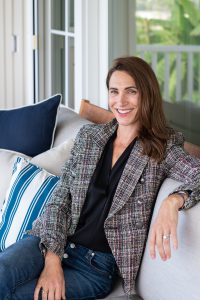 Although newer on the scene as a licensed agent, in a business built on relationships, knowledge, hard work and integrity, Kristine Flynn is making a name for herself as part of the Mike Johnson Group at Compass.
Kristine attributes her proven record of successful transactions in a short period of time to her client-centered approach, a strong work ethic, competitive drive, and a genuine love of helping people combined with an enthusiasm for real estate and everything it entails.
After graduating with a master's degree from UCLA, she started and ran successful companies, partnering with clients in a variety of industries, and following her family's move to Laguna Beach in 2010 her passion for real estate grew. She and her husband updated, flipped, built and sold several Southern California properties all the while curating a specialized skillset, which she is able to share with her clients today. A discerning eye for design, a comprehensive knowledge of construction and a deep understanding of market trends are a few of the qualities that make her the perfect guide throughout the buying and selling process.
Kristine is the mother of three and she enjoys staying active in the Laguna Beach community. She is an avid supporter of local business, a regular volunteer at schools and the Laguna Beach Food Pantry, and in her 5th year as a board member for School Power, Laguna Beach's non-profit education foundation. In addition, on most days you can find Kristine jogging the streets of Laguna, hiking one of our beautiful trails or practicing yoga with friends.
Kristine Flynn can be reached at 949.463.9847 or kristine.flynn@compass.com.