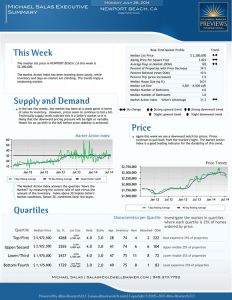 The median price in Newport Beach is $2,280,000.
The Market Action Index has been trending down lately, while inventory and days-on-market are climbing. The trends imply a weakening market.
Supply and Demand
In the last few weeks, the market has been at a stasis point in terms of sales to inventory. However, prices seem to continue to fall a bit. Technically supply levels indicate this is a seller's market so it is likely that the downward pricing pressure will be light or variable. Watch for an up-shift in the MAI before price stability is achieved.
Price
Again this week we see a downward notch for prices. Prices continue to pull back from the market's highs. The Market Action Index is a good leading indicator for the durability of this trend.