Restoring Local Charm, One Cottage at a Time
By Gina Dostler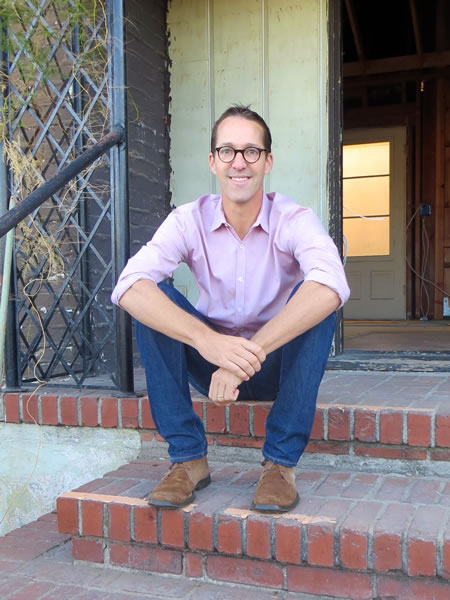 Laguna Beach's history spans more than a century. Some of its character stems from small cottages, many of them built as weekend homes for residents of Los Angeles' affluent suburbs in Pasadena and San Marino.
Fast forward to present day Laguna, where many beach bungalows are now occupied by full time residents. Local resident Clark Collins specializes in restoring these little homes with quaint period touches as well as perfectly modern function. Of 65 he's completed, his most recent project is on Laguna's Lombardy Lane.
Q: You are a designer and builder.
A: Yes. I buy old cottages, restore and renovate as much as possible and resell them. I don't have original plans of the home, so I sort of fly by the seat of my pants figuring the right things to add or remove; as well as research the era in order to keep that historic look and feel of when the home was built. So I'd say I am a design and build firm with a definite bias in historic preservation and restoration. I love it.
Q: How did you come about restoring these cottages?
A: It all started when I got lucky and worked for Michael Smith straight out of UCLA's design school. I've always loved art and design. I originally worked in finance for six years and decided to take a break and go back to school. Working for Michael was fabulous. We could shop anywhere in the world and do anything. My interest was definitely peaked at this point. I worked for him for three years then started my own lighting and interior design business. Sold that and started restoring homes about six years ago. Lombardy Lane is my 10th project in Laguna.
Q: What is so appealing to you in redoing Laguna homes?
A: I grew up in Newport but always came to Laguna as a kid. I lived on and off here since 1993. And now I'm raising my family here. Laguna has a lot of history. By 1982 Laguna had an inventory of historic homes and building codes for historic preservation. Eight hundred and fifty homes were rated. Right now they are in the process of redoing that register. I'd like to grow that list. You certainly can be added to the list if you have a historically significant house.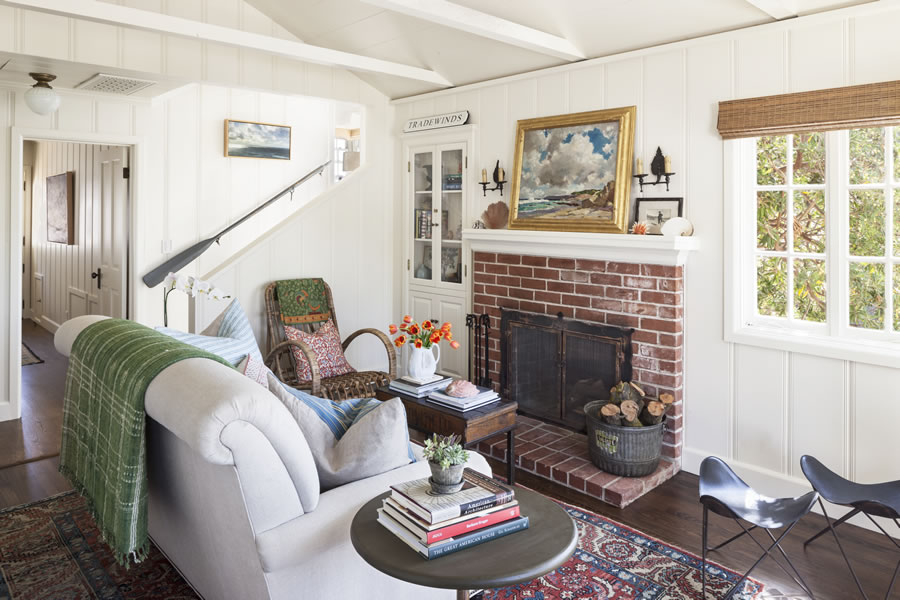 Q: Tell me about Lombardy Lane.
A: It was a very dramatic restoration. Nothing had been done to it in 30-40 years. There are many like it in Laguna that are in disrepair. So I bought it and like an artist looking at a blank canvas, took that home and started research on it to help me find as many historical pieces that might have been around the time it was built. It is somewhat preservation and then some restoration. Certain elements of the home I could save such as lighting and hardware. I used refurbished materials found online or through antique dealers.
Q: What did you put into it to bring back the cottage charm?
A: We replaced the original paneling after taking the drywall off. At the top edge of the ceiling we put in a 2 x 4 rail edging, a detail which is in early cottages. We added light fixtures from early 1900s, some from a little earlier time. The soapstone in the kitchen, which was popular back around the turn-of-the-century really gives that antique feel to the kitchen. We were lucky when we tore out the carpet. We found the original flooring was there except for in the kitchen, which we had to replace since linoleum was overlaid on it. I found a luggage rack from a train in that time period and it worked really well as a bathroom shelf. The chrome bar over the window in the shower is from the '30s. Once again, the real deal simply refurbished. I spent a lot of time searching for these items.
Q: Your detailing really pays off in the charm that is created.
A: Yes, we even included vintage white ceramic light switches that were refurbished and rewired to current electrical standards. The hinges on the cabinets are solid brass and the latches are old school. The bedroom lights are from the '40s and the brass hardware from the '20s and '30s. It actually was a simplification process of bringing it back to what it had been. It's like walking back in time, yet with all the modern conveniences hidden underneath the old charm.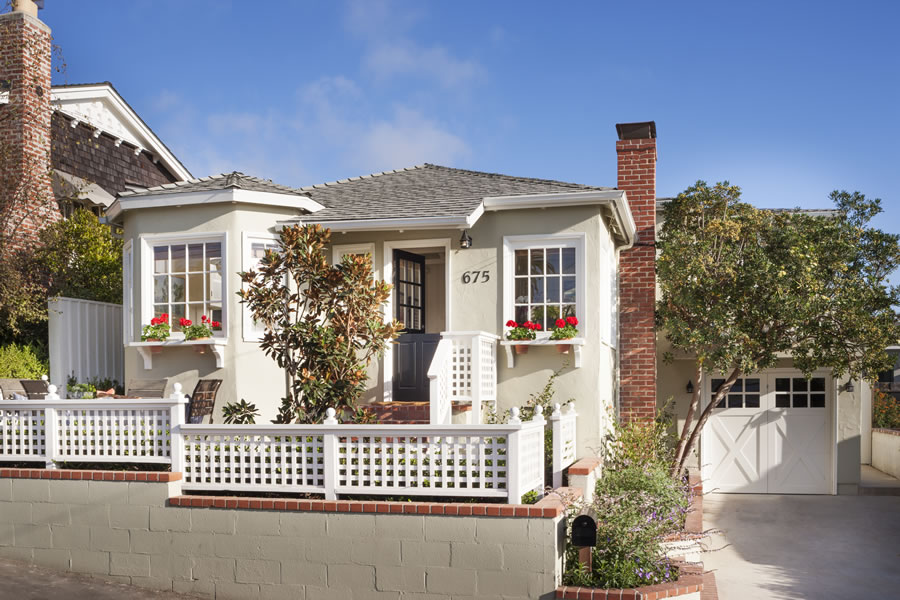 Q: Though you kept the historical feel to the cottage, what artistic license did you use?
A: A lot had to do with spacing. Back then these homes were used as weekend beach bungalows, where nowadays they are lived in year-round. In the Lombardy home, I knocked out a hallway to increase the size of one of the bedrooms. The breakfast nook with the shutters is not that big. So I added a window bench to eliminate the need for chairs and to create more room and much needed storage in this 900 square foot home. I also eliminated a little room off to the back to increase the size of the kitchen. Sometimes it's a hard call. But after seeing enough untouched cottages, I've developed an eye to what works.
Q: What satisfies you most refurbishing Laguna cottages?
A: Seeing the end result, my creation, that is rewarding. I can't claim that I am behind every hammer strike. I have a wonderful team that does that. But I am the one that designs and digs through the abundance of materials to create their appeal and character. For me, it's the older homes that make the charm flow in Laguna and keeps it special. And if I can add to that, if only one cottage at a time, I am happy and satisfied.
Clark Collins
Designer and Builder
Historical Preservation & Restorations
1999 S. Coast Highway, Suite 1
Laguna Beach, CA 92651-3663
949-494-5255