Green Entrepreneur Improves on Nature
By Gina Dostler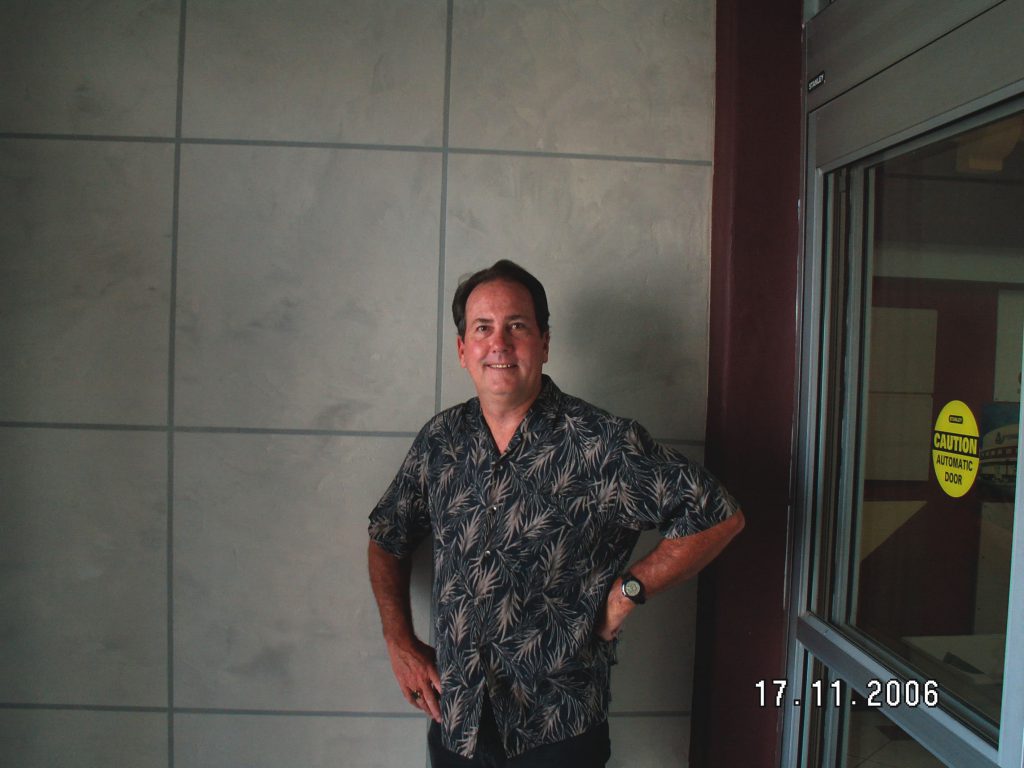 Frank Layton first came to Laguna Beach for a six-month stay. Twenty years later, he finds himself living on Top of the World, watching exquisite sunsets and passionately working and developing products for his company, Fluid Stone. Layton expects 2014 to be Fluid Stone's breakout year internationally. The company's proprietary "green" coating system earns energy tax credits, LEEDS points and claims to be 25 times more durable than competing commercial-exterior coatings. Where most paint scrubs out at 300 times, Fluid Stone takes 4,600 scrubs to wear out its surface. Layton uses it to create faux flagstones on a wood deck in a Laguna Beach home or venturing to Mexico to apply his product in a $33 million custom home.
Q:  You are such a hands-on person. What is your background?
A:  I was licensed in securities specializing in real estate and raised capital for building shopping centers, apartments, housing tracks, and other commercial projects for 30 years. Then I decided to get into the venture capital business and spent 5-10 years funding companies that had to do with real estate. I took five building material companies and made them public. One of the coating companies I developed into Fluid Stone and I have been developing green products for the past seven years.
Q:  What is Fluid Stone?
A: It is a single component, easy-to-use, non-toxic, "green" decorative stone coating system. It's used for commercial as well as residential applications, for both interior and exterior applications and can be applied to vertical and horizontal surfaces. Coatings applied on the outside of the home protect its structure while creating a decorative finish. You can also get very creative and make any type of finish on most any surface. An artist friend of mine took a glass-top coffee table I had and made a marmorino plaster finish on its surface. The finish was applied to three-quarter inch plywood that was cut to the same size as the glass. It turned out great and the best thing is nothing can ruin its surface.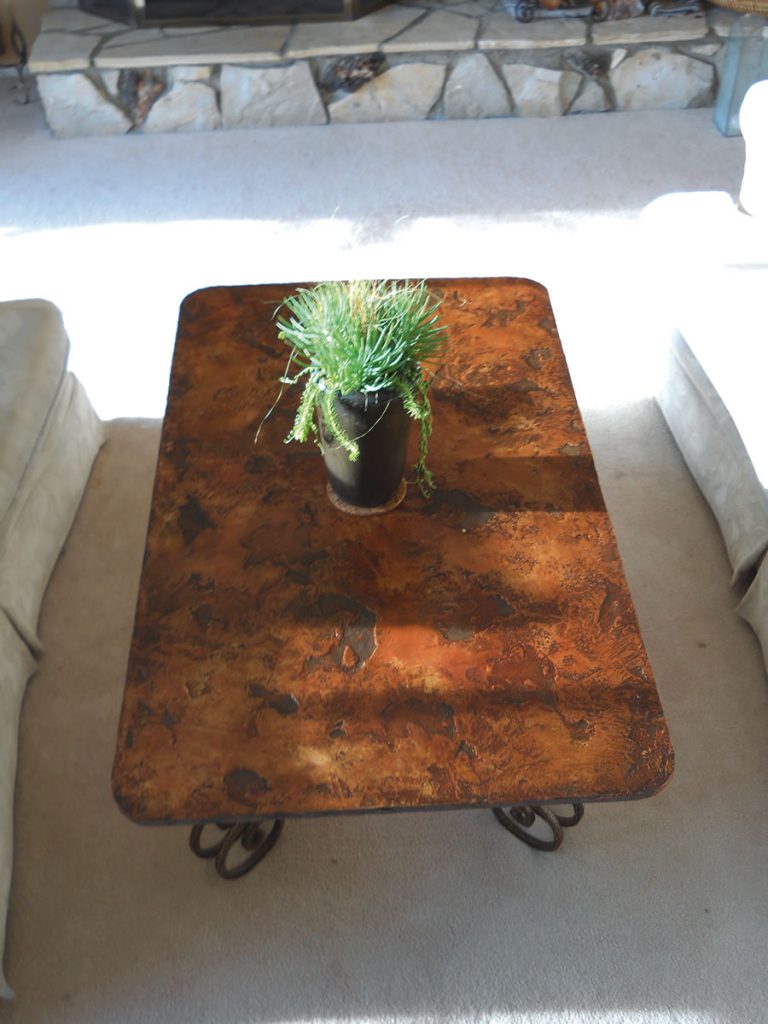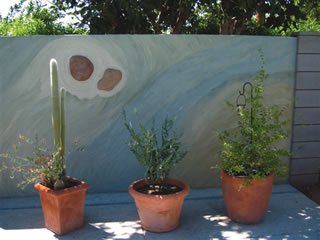 Examples of local entrepreneur Frank Layton's Fluid Stone treatment, applied to exterior walls and even a table top.
Q:  So you focus on the green building industry?
A:  Absolutely. Years ago, the green world used to denote a premium cost. Now it is competitive or cheaper than its conventional counterparts. After I bought the company I went to a green building show and asked many questions and came up with several points on what I needed for a green product. It had to be non-toxic, non-flammable, protect the house while reducing temperature and be hard as stone. I went back to the drawing board and reformulated the coatings and came up with a proprietary water-based, cross-linking polymer and combined it with natural stone and recycled glass aggregate. This resulted in highly attractive "natural-stone" finishes that are environmentally friendly.
Q:  How environmentally friendly?
A:  It is non-toxic for one. It rates at 12 VOC, way under the legal limit of 50. But after 24 hours when the product is cured, there is no off-gassing and it rates at zero VOC. It is a water-based acrylic with natural stone and utilizes various types of recycled glass. It's also non-flammable. One type of recycled glass we use reflects infrared light in a product we call Cool Coat Exterior Finish and reflects over 50 degrees of temperature from a building with only an one-eighth inch coating. Our SRI (Solar Reflective Index) scored 68.8 (to get one LEED point you need a rating of 29). Second best thing is the energy absorption is very low. Most of the heat that enters our product, leaves our product.
Q:  This makes the house very energy efficient. What about the cold?
A:  It also reduces the cold inside the home by sealing off any drafts. We don't see it, but the house is breathing the heat out of the house. By applying our product, it closes gaps that naturally occur and keeps the house insulated. This saves on energy consumption all around.
Q:  You have three basic products?
A:  Yes, the primer that penetrates the surface with excellent water-proofing characteristics to prevent moisture migration. Then our decorative coatings bring the aesthetics to any home for the look, feel and durability of natural stone. We can replicate and custom-make any type of finish, such as Venetian plaster. And then we have sealers that spray on and when dry are invisible. Best of all no water can get through, but small particles of air can pass allowing water vapors to seep out through its vapor permeable system. So if a pipe broke in your wall, moisture can get out if needed. Yet when it rains, the water can't get in. It increases the longevity of any surface, horizontal or vertical. Our whole coating system is the most versatile on the market today.
Q:  What are its advantages?
A:   Strength, flexibility, crack-resistant and its longevity. It bonds to any hard surface, enabling the product to be used as a coating material without conventional and costly preparations. And Fluid Stone can be uniquely finished by a craftsman or contractor to achieve any customized look desired giving it a wide variety of uses. That's why we partner with other alliances internationally as well as here locally with southern California tract home-builders.
Q:  What does that mean?
A:  We partner with many companies that are changing the world for the better. These are providers that make up a team that builds communities – the water people, the power people, the waste-water treatment people, and builders who make up the core infrastructure of a city. Right now we are all over the world, the Ivory Coast in Africa, Mexico, Guatemala, building low-cost housing for the locals. And we are teaching them how to build with green technologies and how to apply our coatings. The new community in the African country of Benin is called A Street of Dreams and will include new homes as well as a whole community of commercial buildings, hospitals, and stores. It's all very exciting.
CONTACT INFORMATION
Frank Layton, CEO
Fluid Stone
145 Meats Avenue
Orange, Ca 92685
949-497-6606
www.fluidstone.com