Evoking Emotion in Design, Thanksgiving Setting Ideas
By Gina Dostler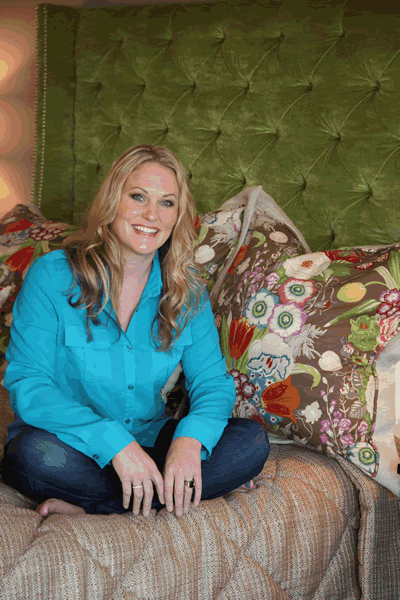 Lindsay Espinoza elicits for her clients the combination of design that evokes emotion, both colliding to form the perfect interior. This ambitious, always on the go interior designer started out with a business degree working for a boutique realtor flipping houses. After several years, she enrolled in interior design school at night while designing furniture during the day. With her design degree in hand, she went to work at the sweat shop of interior design – model homes — working on 20 to 40 houses a year. With her skills honed, she started designing for her friends and family and soon found herself immersed in the romance of creating emotionally satisfying interior designs. She explains her techniques on designing and her insights on the Thanksgiving table's look for the holiday.
Q: You make a statement on your website that you aim to "evoke emotion."
A: Each designed space evolves from information gathered from the client. And the home is where all the important memories are made. Asking an emotional question such as "How do you want your guests or your kids or yourself to feel," evokes an honest response and an easier way for the client to convey the desired design. And then getting to know the family involved gives me the creative edge to tailor the perfect design with every need, want and budget the client requests. Plus it steers away from the "mother may I" design style, which I feel is limiting and not at all what I want the client to get trapped into.
Q: Expand on the "mother, may I" style.
A: There are all kinds of ways to design, but when a designer rules with an "iron fist," where it's their design ideas, not the client's, I feel so many other choices are left out of the mix. And part of that mix involves the client's suggestions and dreams. I ask, "What do you want?" Sometimes they can't exactly pin-point what they want, so I lead them by asking questions that stimulate an emotional response. "How do you want to feel in the room," is a good question to start the creative process. Once that is established I like to push the envelope just a bit to bring the creativity one step further.
Q: How does one go about pushing the creative envelope?
A: It means stretching a desire, a thought to something more, something different based on the required function. In order for us as human beings to grow we need to push ourselves out of our comfort zone, and it's the same with interior design. Changing up space empowers and invigorates. That's why I like to create my own furniture as well. It targets exactly what a client envisions, giving it a unique edge, something they know is theirs alone.
Q: Can you push the traditional Thanksgiving into something more creative?
A: I always like to think out of the box and create something new. If we are talking about Thanksgiving, place settings are a perfect place to start. Give the table a new start with a new tablecloth each year. Keep to a neutral color, using it as a backdrop to apply color. Forget the candles. For centerpieces use colorful flowers and shapely succulents. I like to bring earthy elements into the mix.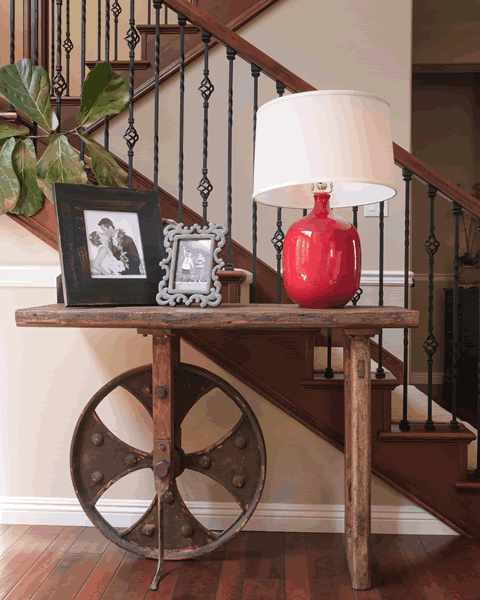 Q: What colors do you find very enticing?
A: Here's the thing. The color orange makes you eat more. Funny fact, right? With the big feast of turkey, stuffing, vegetables, appetizers and propensity to gorge, it's best to keep to whites, greys and burlap colors. To slip in the fall color orange, use it in a runner. Or maybe in napkins, such as the ones I saw at Roger's Garden, orange origami napkins. With their cool unusual shapes, it really brings in a bit of fun to the table. Contrast the orange with turquoise colored goblets. Though brown is very typical of Thanksgiving, I'd stay away from it unless it was on a stem of some flower on a table.
Q: Besides color, what simple things can make the home yours and cozy?
A: The holiday season always brings things up close, your house filled with the people you love and memories in the making. So with everyone coming over, you certainly want your house to look its best and make everyone feel at home at the same time. Number one on my list is to update the picture frames. Swap out all your old pictures with updated ones to bring interest and new conversations. For coziness, switch out all the incandescent to the new warm light LEDs, place a new doormat and maybe introduce the color orange in new dishtowels. Insert cloves in oranges and place around the room, utilizing the sense of smell to cozy things up. A pot of cider simmering on the stove does the trick as well.
Q: Your design skills don't just end at the home.
A: I've designed high-end residential, healthcare and retail in the Orange County area, all incorporating a holistic approach to produce an evocative and functional environment. I utilize the same approach as in the home, finding the right vibe intended for the work environment, yet I find the home more difficult because every decision is a very emotional one compared to the work space. Either way I thrive to present each client with a finished product that is a moving experience.
CONTACT INFORMATION
Lindsay Espinoza, Interior Designer
LULU Designs
949-370-7759
luludesignsonline@me.com
LuLuDesignsonline.com