By Gina Dostler
Chris Novy envisioned owning a Chem-Dry carpet cleaning franchise as a good business opportunity. Its low water-use, natural formula keeps Novy and his two business partners busier than ever.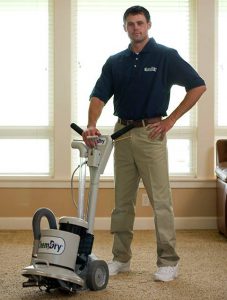 Q: How did buying a Chem-Dry franchise change your life?
A: I always knew I wanted to own my own business. After graduating with a degree in economics, I started working in financial counseling. Some time later I was presented with an opportunity to purchase a Chem-dry franchise. I really liked the idea of a franchise because you have a framework and support system already in place, yet still have the freedom to operate the business the way you want. College was theoretically learning. But owning is definitely the practicality end of it. It's been a great transition and the freedom to own my own business has been a dream come true.
Q: It's a family affair, yes?
A: I have two other brothers working with me, Ken and Robert. We service all cities in Orange County. Last year we recently expanded our service to Los
Angeles, Long Beach, Lakewood and we even go out to Riverside. And we're still continuing to grow. Customers really like our pricing and quality of service.
Q: How important is it to use Chem-Dry versus steam cleaning?
A: The Chem-Dry method doesn't use a soapy solution like most other carpet cleaning services, so there is no risk of leaving behind a soapy residue, which attracts more dirt. No soap also means we use less water, which drastically reduces the drying time from a few days to just a few hours. There is no risk for mold or mildew to develop on the carpet backing. The solution is green certified and has been developed and continuously improved by Chem-Dry for more than 30 years.
Q: What is it that many residents don't understand about cleaning carpets?
A: Cleaning your carpet is just like laundering anything else. You wouldn't wear the same T-shirt every day for an extended period of time without washing it, even if there is no visible stain. Carpet is a great filter, trapping particles around the home, which helps improve the air quality. But just like
changing the air filter in your home, you must also rinse out (clean) the carpet.
Q: Is it environmentally safe?
A: It's very safe. Chem-Dry's solution has been used and improved since the 1980s and its ingredients are found in nature, primarily composed of minerals. These minerals, combined with the carbonation process, are what deliver the cleaning power. Kids and pets can play around in the carpet
without harmful chemicals to worry about. And it can be used on other areas of the home like upholstery, drapes, area rugs and even car interiors.
Q: How are you changing this service industry with your franchises?
A: Orange Coast Chem-Dry prides itself on excellent customer service in addition to delivering a great cleaning service. By giving our residential customers an honest and exact phone quote while truly understanding the customer's wants and needs, we provide a consistent service that brings repeat business. We also make sure the customer receives an email confirmation with the exact payment price before their home is serviced along with photos
of the technicians they can expect to arrive.
Q: Why photos?
A: It gives the customer a feeling of safety and assurance that we are not a fly-by-night operation. When they open the door, they know who to expect and feel more relaxed about letting someone they've never met into their home. It's part of the service we give.
Q: What's the advantage for property owners to use Chem-Dry?
A: Over time using cleaning services with soapy products creates an accumulation of residue, making carpets attract more dirt in between cleanings. Property owners have a vested interest in maintaining the quality of their home and our system offers a longer lifespan to their carpets and upholstery
without residue accumulation. We also offer protectants for carpets and upholstery that help maintain a longer clean between appointments.
CONTACT INFORMATION
Chris Novy
Co-owner
Orange Coast Chem-Dry
5 Upper Newport Plaza Drive
Suite 250
Newport Beach, CA 92660
949-631-5015
http://orangecoastchemdry.com/
info@orangecoastchemdry.com
CREG_