One on One with Nina Naderchi
By Gina Dostler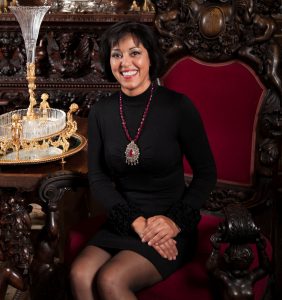 Nina Naderchi possesses a special talent for transforming already beautiful antiques into functional masterpieces fit for castles, but suited for the functional needs of modern day homes. Her husband Paul Ligocki, a retired structural engineer, was a former client enchanted by Naderchi's gift for designing interiors. Out of his Rolodex of contacts in the construction industry, no one matched her talents for design. After nine months of design planning, Naderchi transformed his Laguna Niguel home in his absence on a two-week vacation. Now they continue their pursuit together, falling in love with antiques that fill a niche somewhere in their home.
Q: Antiques find new life at your shop. How did you get started in this?
A: I had worked for the prestigious Steven-Thomas Antiques and Interiors shop (in Santa Ana) as a sales rep. At the shop I heard so many times, "I really like this piece, but I have no where to put it." Or I'd hear, "it is simply too large but I love the carvings." So I'd come up with different ideas for repurposing the antiques or find ways to reduce the size. When Steven-Thomas closed, I opened my own antique store, first in Costa Mesa, but now I am located in Laguna Canyon.
Q: You do more than repurpose, you transform them! How do you do it?
A: Antiques are my life. The history, the workmanship, they all carry a spirit of the times, of the maker, and the previous owners with them. When a customer falls in love with an antique, because sooner or later it is bound to happen, that is where the fun begins. I ask questions on how they'd like to use the piece, what do they love about it. Soon the piece whispers to me and I'll suggest making new items from the antique.
Q: What do you mean whisper?
A: Well, when I see a certain antique and the customer is in love with it, the piece "whispers" its intent to me. I hear it through my heart and know what to build out of it. It comes about through my love of antiques and my creativity in design work. And after being around antiques for such a long time you start to listen to their inner stories. Put me in front of one piece, I can tell you in 20 seconds how many pieces you can get from it. For me it's always about the imagination. The minute I see a piece or talk to somebody, I can take them to a specific antique, explain what I see in my head and then put in a sketch for them.
Q: Tell me about some of the transformations?
A: For instance we are capable of making a whole kitchen cabinetry. We were contacted by the owner of the Hancock House featured in Bravo's docu-series "Flipping Out" with Jeff Lewis. The owner wanted something appropriate for renovating the kitchen of her historical home. After making a house call, I knew a huge dining table set we had would be perfect. We used the whole beautifully carved wood dining set that consisted of a table with chairs, and two buffets for her kitchen. All the back of the chairs from the set became the door panels to the cabinets, the buffet became shelves. We reconverted the tabletop into the kitchen island placing the two columns from the table under the island. We took every piece of the set and used it in the kitchen. Any needed extra parts we reproduced.
Q: What are some pieces you've made from an antique?
A: We made a four-piece bedroom set consisting of a dresser, two night stands and a king size bed from a 1880s finely carved Italian bench. Every single piece of the original bench was used and our master craftsmen, including carpenters, carvers and finishers used matching wood to finish the ensemble. When we finished and delivered the set, he was truly amazed at the product and value he received. He is so proud of his bedroom set and refers many customers our way.
Q: You seem to have a lot of loyal customers.
A: Once a customer has had a beautiful antique transformed into a unique piece, there is such a special quality to it that keeps them coming back for more. I also like my clients to be involved in every little process, which they enjoy tremendously. They visit our workshop through all the stages of it being built. My customers are like kids in a candy store. They love it and are so proud of it. I know we will stay in business when I see my customers get so excited. That is mainly why I am in business. I like to see smiles and enjoyment on their faces from something I helped create for them.
CONTACT INFORMATION
Nina Naderchi
Interior Designer/Proprietor
Philosophy Antiques inc.
3305 Laguna Canyon Road
Laguna Beach, CA 92651
949-715-0671
www.philosophyantiques.com
nina@philosophyantiques.com