One on One with J.J. Ballesteros: Documenting Laguna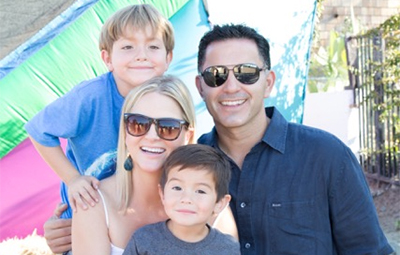 A real estate broker, J.J. Ballesteros of The Ballesteros Group, stepped into the role of film producer along with his wife Andrea and world-renowned filmmaker John Barrett to make a film about Laguna Beach. The premier of Everything Laguna Beach will be shown Tuesday the 25th at Skyloft on S. Coast Highway. It is a labor of love and a dream come true for Ballesteros who has brought the vibrant home-town feel of Laguna Beach to the silver screen.
Q: What inspired you to make a documentary of everyday life Laguna Beach?
A: The city itself. We believe it is one of the best cities in the world and feel so blessed to live here. We noticed some of the shops were going out of business and wondered how this could possibly be happening in our great city. Could it be they need exposure? I began thinking about a video to highlight those deserving shops that make Laguna Beach so special. From a real estate perspective, my wife Andrea and I feel some homebuyers may overlook Laguna because they don't understand the charm of this town. We really wanted to paint a picture that depicts the feel of Laguna, something you only seem to completely appreciate once you live here.
Q: Did you shoot some of the videos?
A: I love video. I knew the shots I wanted to take and decided to hire local director, John Barrett, a filmmaker, photographer and drone pilot to do the filming. He was born and raised in Laguna and I knew he could help me capture its charm perfectly. John worked with MacGillivray Freeman Films, a local 70mm IMAX film production company, to produce the film National Parks Adventure. When we met and I told him about my dream, he fell in love with the project and agreed to come on board. He knew the vision I wanted to portray and truly made the city come alive in a way that hasn't been illustrated before.
Q: Is Everything Laguna Beach targeted to reach people seeking a home in Laguna? Or is strictly for tourists?
A: It's not a movie promoting tourism, but it does combine aspects for visitors and those interested in living here. We networked a lot and had conversations with many of the locals asking questions such as, "What is your favorite art gallery? Or favorite place to have a glass of wine?" These along with some of our personal favorites hopefully add the personal touch you feel in the video. We alluded to the amazing school system as well. Most importantly, the film speaks to the culture and artistry of the community. The art extends to the Real Estate as well. Every home here has its own personal flair. It is a reflection of the personalities of those who live here, attracting home buyers, second home owners, developers and some of the world's best architects. The film shows how Laguna Beach is truly a small town of people who work together to preserve their precious community and the place they are proud to call home.
Q: What was the most challenging aspect for you when you were filming?
A: My wife! She's actually the one that pushed me to do it. I had pondered the idea for a year. She's the one that got the ball rolling for me, encouraging me to do it. Regarding the film itself, it's not always easy to get people to understand your vision. So initially getting people to understand the video was a bit of a challenge. Once we put the trailer out last August, people saw what we saw and finally understood our vision and a light bulb turned on. The trailer and vignettes we have been releasing have a combined 160k views on Facebook. Things gained momentum after the release of the trailer and we were then able complete all of the shots we wanted.
Q: The film is also helping people out in other ways.
A: All along the way, since the inception of the idea, we made it clear we wanted to raise money for Laguna's local non-profits with this project: Laguna Food Pantry, Friendship Shelter, School Power, and Project O which is about protecting sea life and keeping the ocean clean. Our goal is to raise a minimum of $20,000.
Q: Name three things about Laguna Beach you love.
A: The people, culture / community, and the overall beauty of the beaches and hills. My wife calls it a "little slice of heaven." When we started to capture it through film, it reinforced to us in a new perspective what an amazing place it is to live. There is such a small town community feel to it. Everybody looks out for each other and takes care of each other. It is home to the Pageant of the Masters, the Sawdust Festival and community events that are so special like the Laguna Art Walk. Laguna Beach is a place for vitality and lifestyle. Many of the shops are geared toward the active outdoor enthusiast community. For real estate, it is home to some of the most renowned architects and designers in the world. We attempted to capture all that in this video.
Q: As a realtor, has it made it easier to sell homes with drone videos?
A: Drones help capture the home in a different light & perspective for potential home buyers around the world. It makes the property come to life. In Laguna, there is usually an ocean view just around the corner. It shows the proximity to town, a park or the ocean. It gives the viewer a chance to place the home relative to everything around it. Buyers from around the globe are able to acquire a better sense of what properties have to offer from interiors to surroundings in a way still photography is not able to do.
Q: What about privacy? Are there regulations for operating drones in the city?
A: Currently Laguna is trying to establish relevant rules by the end of this year. As for now, there are no regulations. It is obvious drone use shouldn't be abused or used in unethical ways. The way we use them for real estate is for home sellers and buyers to really get a "touch and feel" view of the property in a way still photography just doesn't capture. It truly benefits all homeowners wanting to sell their property. It is our job to show the home in the best light, and utilizing drone footage is a great tool that captures buyers seeking a home.
Q: Why did you get into real estate?
A: Both my wife and I come from generations of realtors. My grandmother was in real estate and both our mothers are still realtors. I guess it is in the blood. We simply get enjoyment from helping people find their home; or sellers wanting to move on to their next one. For us it is a real honor and privilege to do what we do. It's not just about selling or buying a home. We consider ourselves trusted advisors, advising our clients on the best move at each journey in their lives. Just as you have a CPA or attorney you should have a real estate advisor. We walk the path with them. We have helped people find their first condo and expand when their first, second and even third baby comes along. We help people buy investments, second homes and downsize. We also love to work with developers and architects to help them find the right opportunity to see their form of artwork come to life.
Q: Were can the film be viewed?
A: We are having a video premiere at Skyloft, 422 S. Coast Highway in Laguna Beach on Tuesday April 25th from 6:00 pm – 8:00 pm. You can visit the website https://www.everythinglagunabeach.com/ to RSVP as well as donate to our local non-profits. It will be a fun party. Members of the community and gallery and restaurant owners will be in attendance; as well as the architects of the homes we included in the film.
CONTACT INFO
J.J. Ballesteros
Andrea Ballesteros
Ballesteros Group
Coldwell Banker Residential Brokerage
31852 S. Coast Highway
Laguna Beach, California 92651
949.371.6092
info@ballesterosgroup.com
By Gina Dostler