She Rocks Moms with Designer Nurseries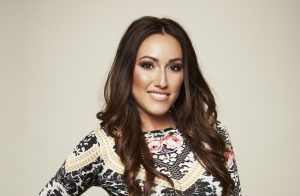 By Gina Dostler
Stephanie Avila of Rockabye Mommy is a go-to resource for expectant parents and families seeking an interior designer focused on children's rooms.
 Q: Creating rooms for babies must be rewarding.
A: It is so much fun to meet up with expectant moms. The excitement level is high and it is such a joyous occasion. I love to help and our service provides such an invaluable resource for expecting moms. So many first-time moms don't realize the complexity of what is out there in terms of baby products and soon the process starts to get stressful. There are themes, colors, safety and many other considerations when creating a nursery. Online provides sites for inspiration, but how to tie it all in is challenging.
 Q: What guidance and expertise do you share with moms?
A: There are so many online sites to find ideas that you can spend hours finding beautiful designs, furnishings and products. It's really overwhelming and then to factor in safety doesn't help. What I do is pull everything together for them into one design. A warm and comforting environment that keeps a timeless look yet can easily be redone as their child grows. Safety is always considered. I partner with other experts to keep in-touch with all the current safety laws and products.
 Q: What types of safety features do you work into your designs?
A: I always specify Ecos Paints for the walls that are non-toxic and contain zero VOCs that do not release any noxious gases for the mom during pregnancy and after the baby is born. And for parents with high concerns on furnishings such as fabrics and cribs, there are always non-toxic alternatives available. I've also done the background checks on certified experts to child-proof the home for safety and provide peace of mind for the parents.
 Q: Where do you start when working with moms in designing a room?
A: The personality comes into play and so I start by picking a wallpaper or print in the home and design around it. It's a perfect way to launch a design and receives enthusiastic approvals for completing the rest of the room around that piece. I also tell parents instead of a crib that doesn't convert, try a different style and finish that not only converts from a crib to a toddler's bed, but into a full size or daybed as well. Then all they have to do is reconfigure the room as the children get older which saves money and time.
 Q: You have a lot of enthusiasm for what you do.
A: Yes! I visit the design center like a child would a candy shop. I love to look around and gather ideas, pour through design books and papers. Researching a design is definitely the fun part for me. I do lots of searches and have my own folders filled with items I see, like and keep filed. So I'll have this huge mess on my table and narrow it down by grouping items on the floor where I walk back and forth for a few days checking it out. My eyes grasp things new each time and I'll pull items that won't work. Then finally when I'm happy with what I see, I tighten it up and present it to a very happy client. It usually takes me about a week to finish the initial design.
 Q: You also offer E-Design. What is that?
A: E-Design is perfect for the do-it-yourself mom who needs expert advice and help getting started in the right direction and a non-local resident who wants our services. A packet gets emailed out after the first phone call that discusses style and needs based on a photo of the space sent to us. It shows the room design with a floor plan, elevation, concept board and provides a shopping list. It's really a nice way for clients to complete the design around their schedule. I've actually been very busy putting together these designs for clients around the country.
 Q: For new expectant moms, what is the most important aspect of designing a room?
A: Besides the crib, it is definitely storage. You want to have everything close such as a dresser next to the changing table that can store necessary items within reach. Another good thing is to have a systemized closet where things are organized, easy to locate and easy to put away. One thing parents overlook is comfortable seating such as a glider so sitting days and nights with the baby stays relaxed. And think about getting additional seating as dad, friends, and family will want to gather around to enjoy the moments together.
Rockabye Mommy
Stephanie Avila
Co-founder & Interior Designer
24314 Val Verde Court
Laguna Hills, CA 92653
949-228-2249