One on One with Tania Cassill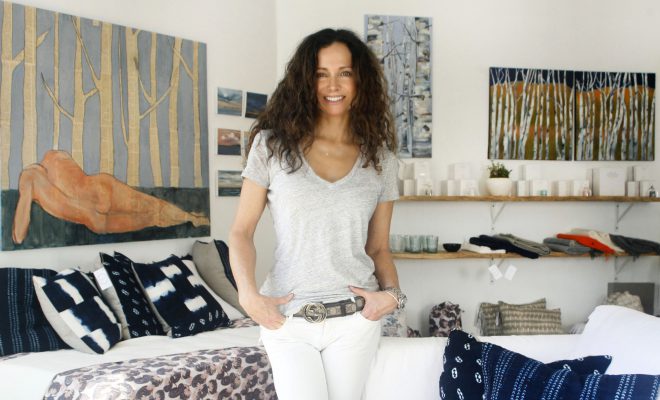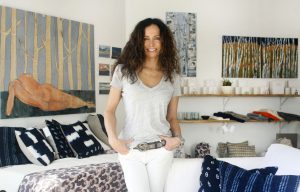 The Infinity of Design
By Gina Dostler
Tania Cassill followed her heart to open her own interior design shop where hanging out, sipping cappuccino and discussing the delights of interior design with customers became reality. Her full-service interior design studio, huit, opened last month in Laguna Beach with a collection of home furnishings and accessories. The ambiance is cozy comfort with unique items that capture a chic lifestyle for the home.
Q: When did your dream start, of owning your own shop?
A: You know, there was really no defining moment. From as long as I can remember I always knew someday I'd have my own shop. I worked a very long time as a fashion buyer for Nordstrom, so maybe the idea seeded during that time. I love fashion and became very knowledgeable on mixing and matching items, colors, and all the designs working their way through the industry.
Q: Is interior design an offshoot of your fashion design world?
A: In a way, yes. Even though I was in the fashion industry, I was very much into home design and the similarities are constant. Colors, textures, and styles overlap into all areas including the interiors of homes. It's simply creating a look for a customer's lifestyle, just utilizing a different medium. I made the switch about 15 years ago to focus on homes, designing interiors for many clients.
Q: And now your own store.
A: I already had a clear vision on what it was to be, very organic, tactile with one-of-a-kind pieces in the store. Actually I wasn't planning on opening until August next year and didn't have a place yet, but really wanted one in Laguna. The night before I left to Paris for inspiration, I saw a store up for sale on Calliope and thought how wonderful if it were my store. The unique architectural style and location was perfect. Then while in Paris I received a text message from a local shop owner back in the states telling me about the same place. I knew then I had to have it. I got back on a Wednesday, saw it the next day on Thursday, and by the following Monday I had signed the lease. My own shop was underway!
Q: And what inspiration did you find in France?
A: Paris is a wonderful place to locate the budding of fashion. In the past, Europe had always been ahead of us, especially in the West Coast. Now, due to technology with the Internet giving us a worldwide look into everything, fashion is pretty much simultaneous, happening everywhere. So I wanted to see what the French were up to and of course the trip was amazing. I found that design was tending toward the thoughtful, not just toward filling up a space. That everything has a purpose.
Q: What do you mean by purpose?
A: Well, you can have a beautiful mid-century modern piece in your home, but next to it is a beautiful hand woven, hand dyed vintage throw. There is history to that fabric, hand-woven by a person in Bolivia or maybe Lithuania; and then the throw having been a part of someone's life somewhere else before finding its way to your home. I also believe homes should reflect our lifestyles, our passions and personalities, and be very comfortable. And it doesn't have to have just one look, but inspire with elements that mean something to us. That is what purpose suggests.
Q: What items do you have that suggest purpose?
A: A beautiful hand-woven light fixture hangs in the store and would add to any contemporary space, warming the ambiance of the home yet complimenting the style. Unique hand-dyed pillows handmade in Male, Africa, carry a story into someone's home. I also have incredibly soft baby alpaca throws from the Andes in a mix of vibrant colors. For local artists, I am featuring rotating art exhibits by Laguna Beach artists, the first being Suzanne Morrison. And an exclusive jewelry line from designer Stacey G of Precious Gemstone Jewelry. Huit truly embodies the art of living where design is beautiful, comfortable and authentic.
Q: huit is an interesting name for a shop.
A: It is! It happens the number eight is my lucky number. And just coincidentally, my address when all the numbers are added to one digit, is eight. Those of you who speak French have already made the connection, but for those who don't, huit (pronounced like the English "wheat") is the French word for "eight." And the number itself, when laid on its side, is the mathematical symbol for infinity. It's kinda fun. All these aspects blend behind the name to make huit a creative source for inspiration, and a place to revisit for a constant flow of distinctive items from around the world.
Tani Cassill, Owner
Huit
1493 Glenneyre Street
Laguna Beach, CA 92651
949.715.5617
huitlaguna@gmail.com