CORONA DEL MAR (JUNE 5, 2015)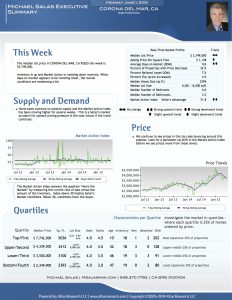 The median list price in Corona del Mar this week is $3,749,000. Inventory is up and Market Action is trending down recently. While days-on-market appears to be trending lower, the overall conditions are weakening a bit.
Supply and Demand
Home sales continue to outstrip supply and the Market Action Index has been moving higher for several weeks. This is a Seller's market so watch for upward pricing pressure in the near future if the trend continues.
Price
We continue to see prices in this zip code bouncing around this plateau. Look for a persistent up-shift in the Market Action Index before we see prices move from these levels.