DANA POINT (JUNE 5, 2015)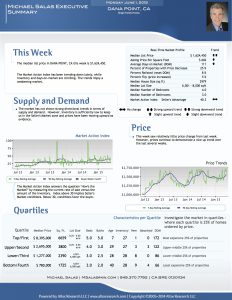 The median list price in Dana Point this week is $1,624,450. The Market Action Index has been trending down lately, while inventory and days-on-market are climbing. The trends imply a weakening market.
Supply and Demand
The market has not shown strong directional trends in terms of supply and demand. However, inventory is sufficiently low to keep us in the Seller's Market zone and prices have been moving upward as evidence.
Price
This week saw relatively little price change from last week. However, prices continue to demonstrate a nice up trend over the last several weeks.