The holiday season is upon us and that means it's time to get your home into the holiday spirit. If you are hosting a gathering, now is the time to put on your host or hostess hat and decorate like a pro. Here are a few tips to get your ho-ho-homes into dashing shape.
First off, creating a cheerful first impression is key to setting the scene. U.S. News recently gave some helpful hints for turning your home into a welcoming holiday wonderland. Sophisticated décor inside and out makes for a festive feel. For instance, a hearty wreath is inviting and holiday figurines are great adornments both inside your home and out. Colors that really set the tone are silver, gold, white, and red. If you are having a dinner party, these colors are perfect for table settings, napkins and centerpieces. White winter floral arrangements or red roses with greenery are beautiful to integrate into your holiday decorating as well. Throughout the home, touches like cashmere throws, holiday scented candles and mistletoe also make your home feel cozy. As for the tree, if you have one, make sure it is attractively decorated and proudly displayed. Finally, if you have a fireplace, lighting a fire is a perfect finishing touch.
Next you want to make your guests feel welcomed. When hosting a party, you want your guests to feel like you are honored by their presence. Town & Country Magazine suggests leaving guests a small welcome gift at their place setting, wrapped in merry and bright colors. One thing you could gift is a unique holiday themed charm that can be fixed to their wine glass as a way to keep tabs on it during the event. You can also decorate name cards just for them. And what better way to keep your guests talking about the party long after it ends than sending them away with deserts wrapped in festive ribbons – such a cute takeaway for guests and their friends and family! Also, make sure there are plenty of comfortable seating areas for guests so they feel at ease.
Finally, you want to make the gathering fun. Nothing rings in the holidays like holiday music – a little "Jingle Bell Rock" always gets the party "Rockin' Around The Christmas Tree"!  Holiday themed signature drinks are another fun seasonal treat.  Forget the traditional eggnog. Give popular drinks a twist. My favorite is a mistletoe martini! Garnish it with a sprig of rosemary to add a little joy.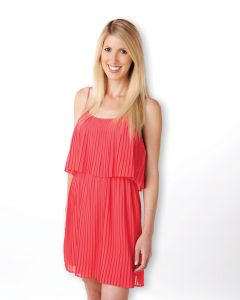 By Holly McDonald
Holly Schwartz McDonald is a realtor with Villa Real Estate who lives in Newport Beach and has been featured on HGTV's "House Hunters." She can be reached at HSchwartz@VillaRealEstate.com.